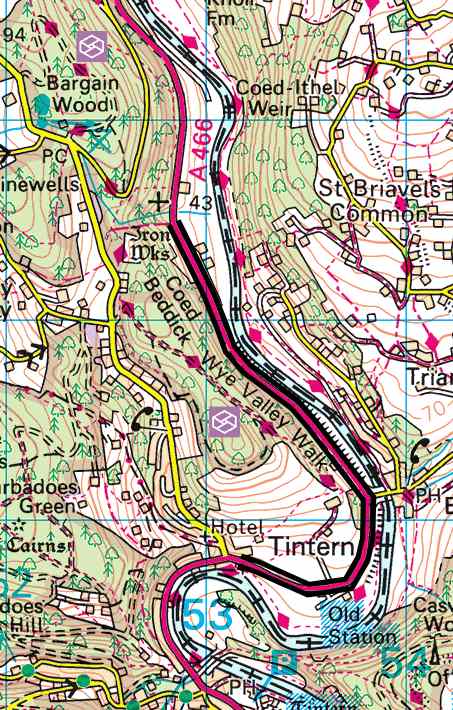 27th August 2020
Road Closure – between 21 September and 2 October 2020
Tintern north to Catchmays Court
The remaining A466 resurfacing works are due to restart on the 21st September 2020 as per the map – see section of A466 edged in black
The closure will remain in place for a period of 2 weeks, up to and including the 2nd October 2020.
The closure will operate on weekdays only between the hours of 09:30 – 15:00.
Brockweir bridge will be closed and diversions from Tintern will direct drivers along the Tintern to Trellech road.
---
27th March 2020
There has been a change of plan regarding the closure of the "valley road" which supersedes the information given below (on 21st March).
Brockweir Bridge south to Tintern Station: closed starting Tuesday March 31st until Monday 6th April (weekdays 0930 to 1330).
Brockweir Bridge north to Catchmays Court: postponed until further notice.
---
21st March 2020
Road Closure – between 16 March and 7 April 2020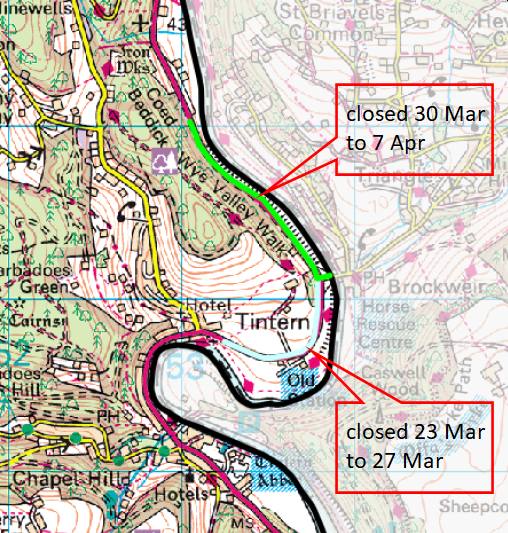 The plan for Phase 2 of the A466 resurfacing programme will be to split the site into 2 stages in order to keep Brockweir Bridge open.
Stage one will be from Tintern to just short of Brockweir Bridge from 23rd March to 27th March, (pale blue line on map) and the road will be closed between the hours of 09:30 and 15:30. All resurfacing works will be completed by the end of 27th March at this location.
Stage two will be from the area in front of Brockweir Bridge (and including Brockweir Bridge) to Catchmays Court from 30th March to 7th April (green line on map), the road will be closed between the hours of 09:30 and 15:30 on weekdays only. This stage will complete the resurfacing works on the A466.
Through Traffic to Chepstow or Monmouth will be diverted along the B4293 via Trellech.
Monmouthshire County Council's Operations Team are undertaking the resurfacing works, so please direct any queries during the works to Stacey Harris or the Operations Team at [email protected] or 01633 644644.