January 26th 2019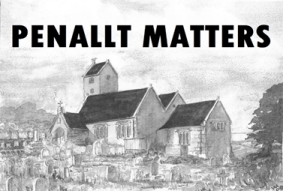 All Penallt residents should be receiving hand-delivered envelopes this week with "PENALLT MATTERS" stickers on the cover. This is not junk mail!
Inside are some leaflets as well as two surveys, one relating to Pelham Hall and the other relating to more general village matters. Both should be completed by the end of next Sunday, 3rd February.
Although the surveys in the envelope are paper-based, we would much prefer them to be completed online.
So, please ignore the paper surveys unless using them is the only option.
The two surveys are here (for the Pelham Hall survey) and here (for the general one).
Names of all those who complete the survey (except for current members of the Pelham Hall Committee) will go forward to a prize draw, the winner of which will receive a £25 John Lewis/Waitrose voucher!
---
Anyone not on the Penallt mailing list but who wishes to join
should contact [email protected]
accordingly. They will then receive weekly updates on village news and events,
etc.