On the north wall of the nave of the Old Church are plaques bearing the names of men of the parish who lost their lives in the two world wars of the 20th century. So much time has passed that few living today – their families excepted – have knowledge of the histories of these men.
To put on record such information as could be gathered was a job which needed to be done. Lyn Harper began research using the internet to supplement local enquiries. Much additional research was later undertaken by Peter Garwood and Linda Sladek Garwood who undertook a daunting task in searching for information principally but not exclusively from official records. They deserve ready thanks for their help without which the village story would be the poorer. Local records include references in Martin Roberts' Memorandum of which a survey appears elsewhere in this book.
The sum of our present knowledge is as follows:
Roberts records "William Adams was killed in the war on 5th August 1915 aged 42 years. He got the D.C.M. for bravery." "David Davies was killed in battle on 8th July 1916 aged 19 years. He was born at Duffield's farm, Redbrook." "William Morgan was killed in battle on 6th July 1916. He was the son of William Morgan of the Birches, Penallt." Roberts also lists as killed "George Wilkins of the Bowery, Penallt (15.8.1917)" and "Ernest Selwyn whose aunt lived at Redbrook (5.7.1916)." Of these, only the names William Morgan and George Wilkins appear on the memorial in the church.
Those listed on the memorials in the parish church are as follows:
World War I
2nd Lt. Richard Pearce Brown The son of Reginald and Edith Pearce-Brown of Doncaster and in 1915 of Traligael, Whitebrook. Richard was born on 16th April 1882, grandson of Archdeacon Palmes. From Bedford Grammar School, he worked in banking in London until he enlisted in the Coldstream Guards (13928) on 25th November 1914. (He was 6'3" tall). On 30th March 1915, he transferred to the Durham Light Infantry to take up a commission. July 1916 saw him serving on the Somme with the D.L.I. at Pozieres. His company was preparing for an attack over the enemy wire when it was decimated by machine gun fire. Richard was killed in the field on 17th July 1916 aged 34 and buried at Pozieres British Cemetery.
2nd Lt. Sidney Alfred Davies The son of Henry and Fanny Louisa Davies of Bridge Cottage, Redbrook, he was born in 1892 in Penallt. He enlisted in Bristol where he left his wife Edith Louise on 2nd September 1914 aged 22, joining the Gloucestershire Regiment (2569 TF) into which he was gazetted 2nd Lt. on 26th April 1917. Confusion in army records means that we know only that he served in France and Flanders from March 1915, and that he was killed on 22nd August 1917, aged 25. He has no known grave but is commemorated on the Tyne Cor Memorial at Paschendale, Belgium.
Private E. Cope A firm connection between this soldier and Penallt has yet to be identified. In 1915, there was a George Cope living at Fernview, Whitebrook. He had a son born in 1898 named George Eric who became a lieutenant in the Northumberland Fusiliers. He was killed on the Somme on 1st July, 1916. There are, however, four other Copes with initial E in the records to whom the Penallt memorial could refer.
Private Arthur Henry England Born in 1885 the fourth son of Edwin, a stonemason, and Mary, all of whose family were born in Penallt except Arthur who was born in Mitchel Troy. Rushton (a printer with the Beacon), Edwin (a coachman) and Joseph (a carpenter) saw their brother Arthur a carter by the turn of the century when the family was living "in Moorcroft." Nothing is known of his war record except that he served in the Army Service Corps 2nd Remount Depot (R4/088207) as a driver of horses used to draw guns and ammunition to the front- a dangerously exposed occupation. Where he served is not known. He was discharged on 5th September 1915 "suffering from sickness" and died at home on 13th January 1918 and is buried in Penallt churchyard.
Private John Gleed John was born in 1895 in Penallt, son of George (farmer) and Eliza, brother to George and Maud. He served in the 1st Battalion Royal Welsh Fusiliers (11669) in France and Flanders from 23rd November 1914 to 16th May 1915. He has no known grave and it is assumed that he was killed in action. He is named on the Le Touret Memorial Panel 13 and 14.
Driver Reginald Charles Gunter The elder son (he had a brother Ernest 3 years younger) of Charles Gunter (a mason born in Dewchurch) and Alice (formerly Gunter, born in Ruardean), Reginald was born in Worcester in 1895. We know only that he enlisted in Hereford and served in France and Flanders from 24th December 1915 in the Royal Field Artillery (W/1616). He was killed in action on 16th August 1917, aged 21 and buried in Bard Cottage Cemetery iv.D.7.
Private Edward John Morgan Born in Penallt in 1899, son of Tom (a farmer) and Annie of Cherry Orchard, he was known as "Teddy." All that is known is that he served in the Machine Gun Corps (Infantry) (179120) and that he died from pneumonia on 15th November 1918 aged 19. He is buried in the family grave in the Old Church grave-yard. The head stone nearest the church on the east was inscribed "Lost awhile our treasured love: Gained forever safe above."
Private William John Morgan Son of William and Mary Morgan of Penallt, he was born in 1880; he married Elizabeth Alice of Redbrook and was living in Coleford as a grocer's assistance when he joined the 9th Battalion, Welsh Regimented as Private 33558. He served in France and Flanders and was killed in action on 7th July 1916. He has no known grave but is named on the Thievpal Memorial.
Private Philip Harry Roberts Son of George and Mary Ann of Cherry Tree Cottage (later of Old House,) Penallt Harry was born in Penallt in 1895. He lived in Cwmcarvan before enlisting in the Welsh Horse, transferring later to the 17th Battalion Royal Welsh Fusiliers (55541) to serve in France and Flanders, dying of wounds on 23rd November 1918, aged 21. He was buried in Sever Cemetery Extension, Rouen (S.II MM, 17).
Rifleman (Private) Charles James Vaughan Born in 1897, son of James and Elizabeth of Little Hoop, Penallt. He enlisted in Monmouth as a rifleman in the 1st Battalion, Monmouthshire Regiment (Territorial) (59797) serving at home, dying on 22nd November 1918 (of influenza) aged 21 and buried in Penallt church-yard.
Private Francis William Wilkins Born in 1895 in Welsh Newton to Charles and Elizabeth of Ivy Cottage, The Scowls, Coleford. His mother was living at Cherry Orchard, Penallt with Francis and his younger sisters, Eleanor and Emily in 1901, apparently having lost her husband. Francis enlisted in Monmouth and served in France and Flanders from 9th August 1915 in the 6th Battalion Kings Shropshire Light Infantry (15634). He was killed in action on 22nd March 1918 (or died of wounds later) aged 21. He is named on the Pozieres Memorial.
Private Albert Victor Wilkins Some records show him as "Victor Edwin;" census records are confused. The family of Henry and Louise Wilkins of "Llandogo, Penallt" included four sons and two daughters. Victor, born in 1887, was the eldest, serving in the Shropshire Light Infantry. He was wounded and died on 1st February 1919 in the War Hospital, Bath. During the war he married Winifred Thomas of Pembroke.
Seaman Alfred George Wilkins Born in Llandogo on 18th July 1894 (brother to the above). The family moved to the Bowery, Tregagle during the war. In 1915, Alfred became an Able Seaman (Wales Z/2349) in the Royal Naval Volunteer Reserve (Anson Battalion, R.N. Division). He was killed in action on 11th July 1917, aged 23,meeting his death under shell-fire. His grave is not known but he is named at the Naval Trench Cemetery, Gavrelle (Ref.D2).
World War II
Squadron Leader Joseph Norman Roach Born in 1905, the son of Tom and Kathleen Roach of Penallt and husband of Dorothy of South Lambeth. A member of the R.A.F. Volunteer Reserve, he was commissioned in July 1940 and joined the Administration and Special Duties Branch. He transferred to the R.A.F. Regiment in October 1942 serving in 2865 Squadron in the Mediterranean at Taranto and Grottaglie and rising to the rank of Squadron Leader. He died of malaria in Sicily on 11th November 1943 aged 39 and was buried in the Catania War Cemetery, Sicily (II.C.18).
Sgt. Noel Conwyl Phillips Noel was born in 1920. His family moved to Tregagle in 1937. He joined the Welsh Guards in 1940 and served in France, Belgium and Holland. He was shot in the spine in 1944 and spent eight years in Stoke Mandeville Hospital. At the time of his death, his parents were living in Yew Tree Cottage, Tregagle.
Cpl. Mark Smith Son of Walter and Rhoda, husband of Clementine Molly of Penallt. He was a regular soldier completing a seven year contract in 1939. He was recalled and became an instructor in the Oxford and Bucks Light Infantry for four years. In November 1943 he was posted to Italy where in October 1944 he was killed in a German machine gun ambush. He is buried in the Coriano Ridge War Cemetery (Ref. XVIII.KI.4).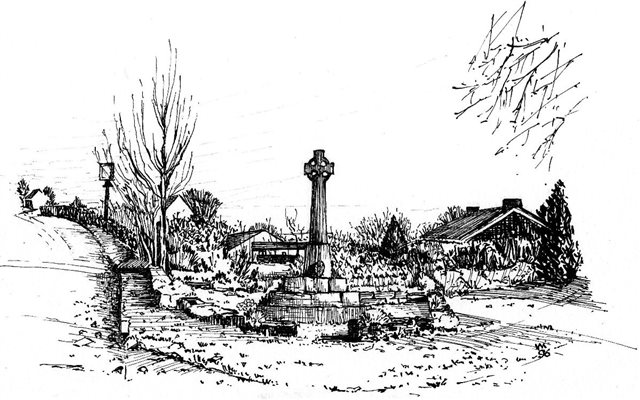 The war memorial in Pentwyn, outside the Old Vicarage, is without names of the fallen. It was made by T. Ballinger of Dingestow in 1920/21. It was unveiled on 12st March 1921 in a ceremony organised by the vicar, Rev. du Heaume, who asked his old friend the Mackintosh of Mackintosh (the Highland Chieftain ) to do the honours. The memorial relating to World War I in the Old Church was put in place soon after, probably during the next twelve months and the addition for World War II during subsequent renovation.
Sadly ,the loss of our people in war did not cease with the end of the Second World War. Our Armed Forces have frequently been committed to action – Northern Ireland, Suez, Malaya, Korea, the Falkland Islands, Afghanistan and Iraq spring readily to mind. It is true that the numbers lost have been few compared with the two world wars of the last century and that official records are much more comprehensive and accessible. But this does not relieve us of the duty to keep them all in remembrance whatever their origins and their histories – in thankfulness that, although our Forces are still committed to warfare as of old, they have over the years become increasingly occupied in peace-keeping and the relief of suffering. The people of Penallt try to recognise this, especially at their annual Remembrance Service at the War Memorial in Pentwyn, when they also read aloud the names of the fallen recorded on the memorial plaques in the Old Church.
[from: Penallt Revisited]