"
Wyeswood Common – A prehistoric landscape to return to the Wye Valley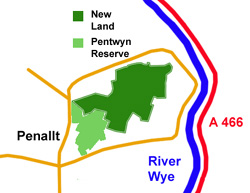 The Gwent Wildlife Trust has bought 104 acres of well-managed dairy pasture in Penallt – a monoculture of rye-grass – and is creating woodland and grassland, full of flowers, insects and birds, managed by free-ranging livestock.
This will produce a wood-pasture landscape, dating back to the 'open forest' wildwood of Neolithic Britain, but which continued to be found as Wyeswood Common in the Trellech Ridge up until the late 19th century.
Together with the existing Pentwyn Farm Reserve, it will make up GWT's largest reserve linking Pentwyn Farm's 40 acres of species rich grasslands with the surrounding scatter of small islands of old grassland, and connect these habitats to the Wye Valley woodlands. It will establish vital wildlife corridors for species such as the dormouse.