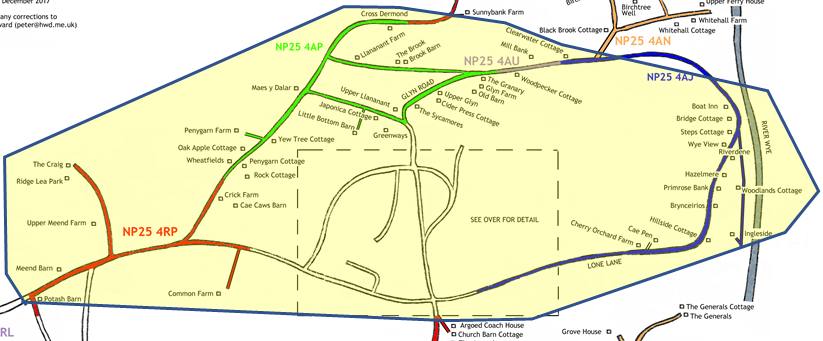 [click image for (slightly) larger version]
July 2020: based on clear support from the recent survey, the Penallt broadband steering group has opted to go with the Openreach proposal to bring full fibre to the cabinet 20 area and now invites residents to join. Full details are on the 2020 project details page.
Brief history
December 2018 – residents connected to BT cabinet 20 in Lone Lane (those shown in yellow shaded area on the map above) were invited to apply for vouchers in order to fund an Openreach project to bring fibre broadband to each property (FTTP – fibre to the premises). Over the next few weeks, some 74 residents applied for vouchers, enough to fund the project.
March 2019 – Spectrum Internet (who had customers in about half the properties concerned already) expressed an interest in building a fibre network too and held a public meeting to explain that their scheme had advantages over that of Openreach. See here for a report on the meeting.
April 2019 – a survey was conducted within the cabinet 20 area to gauge interest in the two schemes, Openreach and Spectrum and 70 responses were received. Of these, 60% had a strong preference for Spectrum, 20% had a preference for Spectrum, 14% had no preference and 6% preferred Openreach. In addition 93% were happy to delegate the decision regarding which to pursue to the steering group of Steve Davis, Rachael Geddes, David May and Lance Rowell.
Spectrum Internet then became our preferred partner.
May 2019 to today – Spectrum's anticipated progress and timescale has not worked out as planned and the anticipated completion date of end of summer 2019 was shelved. A ground survey revealed logistical challenges in burying the fibre and costs spiralled upwards too. It was not clear to us that Spectrum's interest was wholly focused on Penallt too and the period has been one of frustration overall.
However, it seems that they are still very much interested and wish to complete the project. After their survey was completed in the late summer of 2019 Spectrum have been making plans on how they could deliver the service. However some important detail is still missing on how they would deliver the service to the whole community which is why the steering committee decided to re-engage with Openreach.
June 2020
The vouchers obtained for the original Openreach scheme have expired so Openreach have now renewed and updated the fibre project and have invited us to participate. They have drawn up a wider list of 138 properties "to be covered by FTTP as part of this contract" which pretty much covers everyone in the target area.
A new voucher scheme, similar to that of the original project, will fund the work which would then be completed within 12 months of commencement.
Next steps
We are faced again with a choice between two projects and the steering group will again seek the views of residents to inform the decision. To help with this we summarise the main issues below:-
| | |
| --- | --- |
| Openreach | Spectrum |
| FTTP to 138 properties in and near to cabinet 20 area | No confirmed details available |
| Ready within 12 months of contract | No confirmed details available |
| Planning has started | Preparatory work already started |
| Gigabit capable | Gigabit capable |
| Fibre buried and hung from poles | Fibre mostly buried but some using Openreach poles |
| ISP choice limited to 14 suppliers, including BTInternet, Sky, Zen and Spectrum | ISP choice limited to Spectrum |
| Funded by vouchers | Funded jointly by Spectrum investment and by vouchers |
| Large organisation with proven record – not always easy to deal with | Small organisation with (in Penallt at least) a proven record – easy to deal with |
| BTInternet customers retain benefits of e.g. phone, mobile and TV deals plus use of WiFi hotspots. Other ISPs offer bundled deals too. | The deal is high speed broadband only |
Based on the last few months, the steering group has greater confidence in the ability of Openreach to deliver. They now have a "shovel-ready" project on the table too.
We are today at the position where we need to act fast and we need to take your own views into account too.
A survey was carried out to gauge support from the community, the results of which are summarised here.