9th July 2015
The willow weavers' class was surprised when their efforts had a Royal inspection today when the Prince of Wales and the Duchess of Cornwall literally dropped in to Humble by Nature at 10.30 am before going on to Ancre Vineyard and High Glennau as part of their current Welsh tour.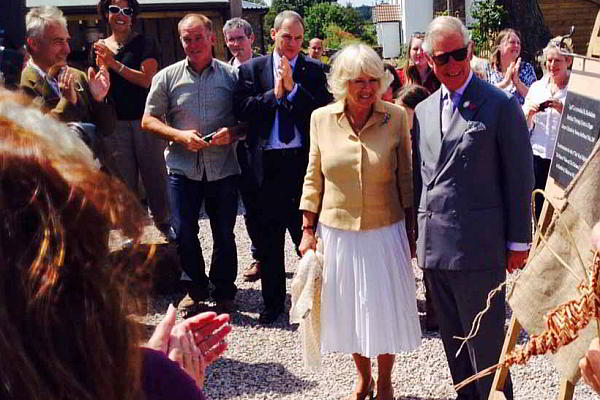 The usual tranquillity of the village was upset by a police cordon and a large security presence but, despite this, many Penallt residents were able to attend the unannounced visit, during which the Royal couple also saw pupils from Trellech School enjoying the playground and finding out about bush craft.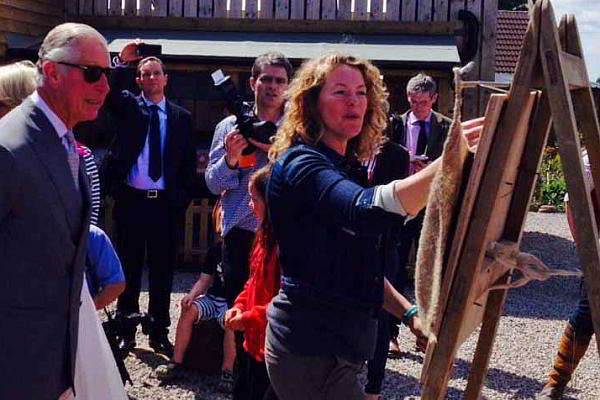 They then visited the garden, the aquaponics centre and the composter as well as the shop and café. Prince Charles unveiled a plaque marking the visit under the watchful eye of Kate Humble before he and Camilla flew off at noon in the Royal helicopter to the next legs of the tour.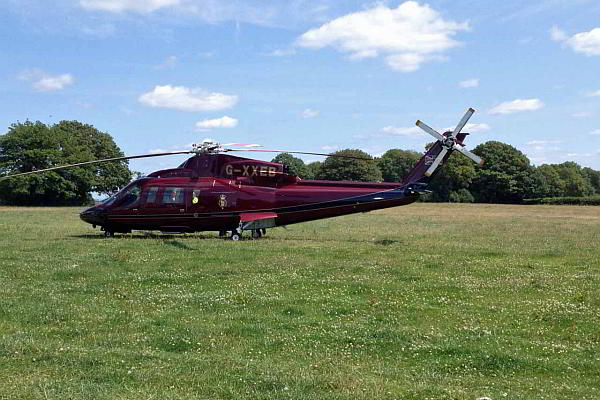 Ludo Graham adds: "I'm sorry that we weren't allowed to announce the visit more widely, as we were asked not to tell anybody until 10.30 in the morning, the moment the visit actually started! A couple from Bedfordshire staying in our Hayloft accommodation were totally amazed when they walked into the cafe to find Prince Charles and the Duchess of Cornwall in the crowd."
---
From Kate and the team:
Humble by Nature welcomes Royalty to Monmouthshire
His Royal Highness The Prince of Wales and The Duchess of Cornwall visited Humble By Nature in Monmouthshire on the 9 July to see first hand how a small farm can be kept alive by diversification.
Their Royal Highnesses met with dignitaries from across Gwent, including members of the local council, Assembly Members and police officers.
Kate and her husband Ludo took the Royal couple for a tour of the farm, stopping off at the Edible Garden, through the rare breeds animal paddocks and 'Pig Alley' where they were introduced to the different pig varieties at the farm. Of particular interest, was the Aquaponic Solar Greenhouse, the first of it's kind in the UK, where TRHs learned more about the innovative food production techniques used to create sustainable farming practices in communities across the world.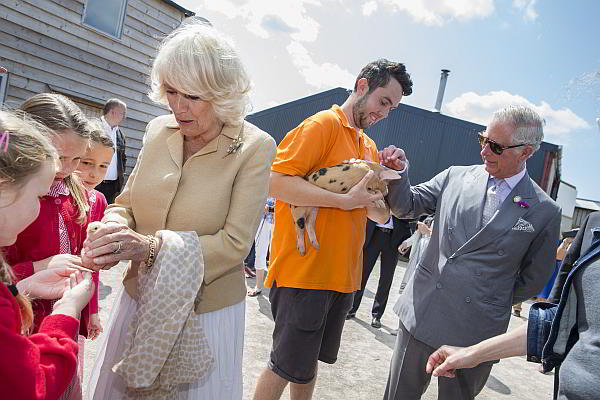 Kate said: 'We are over the moon that Their Royal Highnesses were able to find time in their packed schedule to come to our small farm in Monmouthshire. It was a great honour to have them here.'
During the day, The Prince and Duchess met with local producers who sell their produce in the Humble by Nature farm shop and café, and also met with staff at the farm.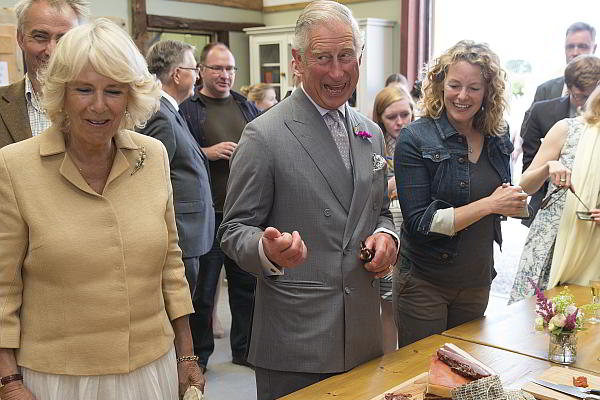 Tim Stephens, Humble by Nature farmer and tutor said, 'It was great to be able to show everything we have achieved in such a short amount of time on the farm.'
The Royal Couple unveiled a plaque in the farmyard to mark their visit.
---
"