20th April 2016
Prue Evill received the very appreciate letter below from our MP, David Davies, and wishes all those who helped to read the letter:-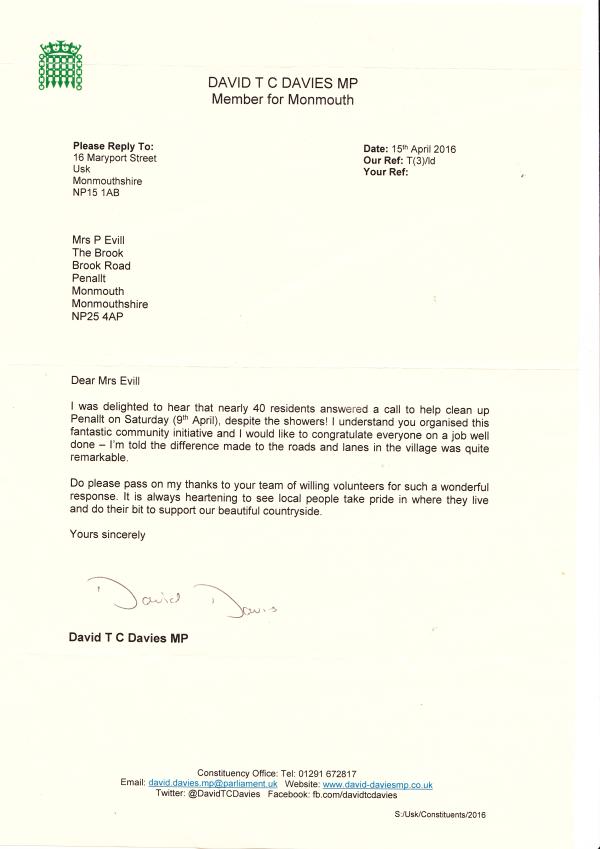 11th April 2016
Nearly 40 Penallt residents answered the call (see 23 March article below) to help clean up the village in the end and, as Prue said, it was "a wonderful response". Most helped on Saturday the 9th, dodging the showers, whilst others did their stint beforehand. All in all, we reckon that the vast majority of roads and lanes in the village were covered, the difference made being quite remarkable.
We all had different tales to tell, but that of Lyn Harper is not untypical:-
"It's quite extra-ordinary what I found, as well as the sheer quantity (15 kg of rubbish between the Pen-y-garn road and Croes Vane). Some of it I'd really rather not mention …. but as well as five wine bottles, bits of cars and masses of plastic litter and take away containers, the most revolting was the doggy-doo bags, filled and hung up on hedges! What sort of people pick up poo and THEN leave it hanging on a hedge??? Unbelievable! (And what sort of people leave it au naturel on the grass verges?)"
Prue Evill organised the whole event and did a remarkable job overall. But she couldn't have done so without the help of the following dozens of willing volunteers from the village, who included:-
Cindy
Holton
Lyn Harper
Rachel & Nick Marsh
Penny Woodman
Peter & Trish Hayward
Charlotte Rowell
Sarah Haeffner
Sue Millsom
Joanna Treble
James Cooke
Stephanie Tyler
Hilary Richardson
Bobby & Malcolm Wishart
David & Anne May
Diana Du Bois
Gail & David Jones
Susie, Richie & Martha Bentley
Ros Robertson
Bronwen, Chris & Georgia
(Pub).
Sally Henley
Jon & Jan Winder
Susie Lowndes
Simon & Emma Morgan
Idena Gleed
Pat Jones
Tim McCord
Jill Bourchier
Virginia Hartley
Maureen & John Webb
Many thanks to all who helped.
---
23rd March 2016
Did you hear about the Clean for the Queen campaign "to clear up Britain in time for Her Majesty the Queen's 90th birthday, which will be officially celebrated in June 2016"?
"When she came to the throne litter was not the problem that it is today. Food packaging, plastic bottles, takeaway meals and cigarette butts have all contributed to a growing menace that affects our wildlife, streets, countryside and sense of pride. What better way could we show our gratitude to Her Majesty than to clean up our country?
We are calling on individuals, volunteer groups, local councils, businesses and schools to do their bit. You can start now and also take part in our Clean for The Queen weekend on March 4th, 5th and 6th 2016."
Unfortunately, this scheme passed us by in Penallt and our roadsides remain a bit of an eyesore in places as a result. However, local resident Prue Evill proposes that we organise our own clean up day to tidy up the village instead.
The day selected is Saturday 9th April 2016 and Prue is seeking as many volunteers as possible to spend an hour or so (or longer if possible) helping to remove litter from our roads and lanes. Bags and litter picking kit will be supplied by MCC to make the task easier.
If you are available to help that day, please contact Prue as below:-
Telephone: 01600 712830; email: [email protected]
or verbally as soon as possible.
Prue adds "there are 18 postcodes to cover – some with only very few properties. We may not be
able to cover them all but should concentrate initially on the main part of the village and lanes such as Lone Lane, Glyn Lane, The Birches; it really depends how many people are willing to help"
So, the more the better! Please offer to help if you can.