"
The last village litter pick was 2 years ago organised by
Pru Evill. The photos below show what
30+ volunteers found in the lanes and hedges in the last couple of days!
Thank you to all the volunteer litter pickers for their
time and effort to make Penallt and it's environs a cleaner place using kit
provided by MCC.
Thanks to all who prepared sandwiches and cakes (Maggie
Tudgay, Ros Edmonds, Paulyne Wade, Pat Jones) for the clean up refreshments and
to Captain Bob for manning the bar.
Also, thanks to Nick & Rachel Marsh for collecting bags of litter
around the village and transporting them to Pelham Hall.
Volunteers litter pickers: Ros Edmonds, Ann Bradley, Ian
Bristow, David May, Gail Jones, Myles Evill, Jane McCord, Steph Tyler, Keith
& Margaret Wrightson, James Cooke, Andrew Nicholls, Emma Nicholls, Paulyne
& Bob Wade, Jon & Jan Winder, Rae Chapman & family, Richie &
Suzie Bentley, Martha and Rufus Bentley, Pete Bentley, Pat & Chris Jones,
Karen & Andrew Rollings, Amanda & Andrew Jack and Jan Harrhy. Hope I haven't missed anyone!
---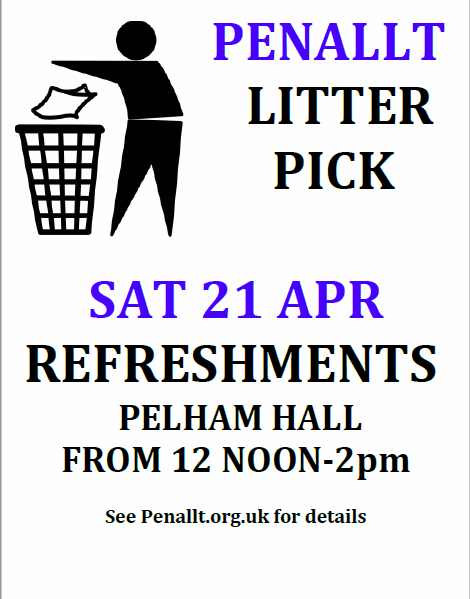 Penallt
Litter Pick – Saturday morning 21 April 2018 –
followed by refreshments to include sandwiches and cakes kindly prepared by Penallt WI at Pelham Hall from 12 noon to 2pm. Tea & coffee will be provided. Donations
for food and drink are appreciated. The
bar will be open too for the purchase of stronger refreshment! All welcome.
If you would like to join in with the
Penallt Litter Pick, please email Jan Harrhy ([email protected]) or phone 01600 869146 by
Friday 6 April and let her know the postcode/area in which you're planning to
tidy and the number of adults/children helping so that equipment can be ordered
from Monmouthshire CC, e.g. litter picker tools, orange bags, hoops for bags,
gloves, hi-viz vests etc.
If you can't litter pick on the Saturday
morning, you can do it any time to suit in the week before the 21 April leaving
your bags of litter outside Pelham Hall where indicated or on the roadside near
your home ready for collection on 21 April. Just let Jan know in advance if you
need equipment/bags to be collected.
Looking forward to seeing a tidier village
and joining you all for refreshments afterwards. Let's hope the weather is kind!
"