12th August 2020
Wednesday saw the temperature reach 33.2°C (92°F) at 5.30pm, the highest temperature recorded in Penallt in the 9 years since records began. It beat the previous highest of last year by a massive 1.5°C.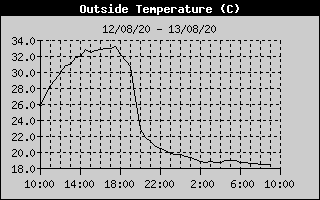 The temperature was above 30°C between midday and 7pm and dropped quickly in the early evening with the arrival of thundery weather with some rain (3.4 mm).
It wasn't to last however as the following day saw temperatures 12C lower and dropping even more on the Friday, Saturday and Sunday. Curiously, the lowest temperature on the night 11/12 August comfortably exceeded the highest on Friday and Saturday!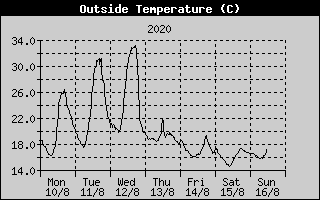 23rd July 2019
Tuesday July 23rd saw a maximum temperature of 31.7°C (89°F) which beat the previous record of three years previously (see below). The lowest overnight temperature of 22.8°C also beat the previous record and was exceeded two nights later by a minimum of 23.4°C.
20th July 2016
Yesterday, Tuesday July 19th, was the warmest day since records began in Penallt (in March 2011), with the temperature reaching 31.2°C (88°F) at 3.30pm (readings are recorded every 30 minutes).
This beat the previous highest of 30.8°C recorded on July 13th 2013.
This was followed by a very warm overnight minimum of 21.1°C (70°F) at 7am today. This was some way short of the record of 23.4°C recorded on July 13th 2013 however.
The chart below captures the record high as well as the very warm low during a 24 hour period during 19th/20th July:-