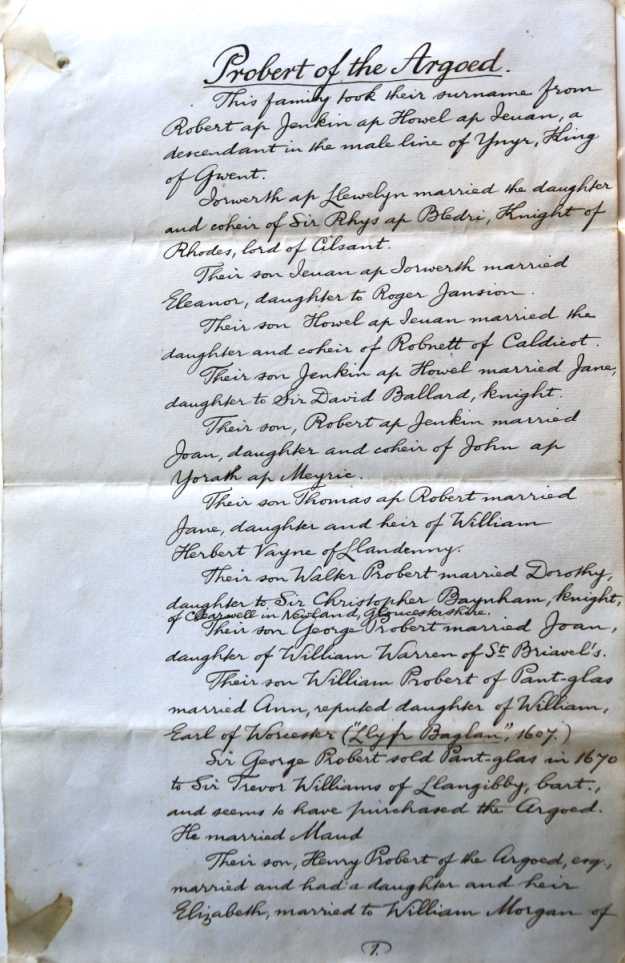 The document above (click either page to enlarge) regarding the history of the Probert family and the ownership of the Argoed is being gifted to Gwent archives. It was written at Monmouth in September 1905 by the famous historian John Hobson Matthews.
The Proberts have been a well-known family name in the district of Llanishen, Trelech and Penallt. For those who do not know, Welsh families used to refer to the son in a family as John son of William. In Welsh this would be said John ap William.
Transcript:
"Probert of the Argoed
This family took their surname from Robert ap Jenkyn ap Howel ap Ieuan, a descendant in the male line of Ynyr, King of Gwent.
Iorwerth ap Llewellyn married the daughter and co-heir of Sir Rhys ap Bledri, Knight of Rhodes, Lord of Cilsant.
Their son Ieuan ap Iorwerth married Eleanor, daughter of Roger Jansion.
Their son Ieuan ap Howel married the daughter and co-heir of Robnett of Caldicot.
Their son, Jenkyn ap Howel married Jane, the daughter of Sir David Ballard, knight.
Their son, Robert ap Jenkyn married Joan, daughter and co-heir of John ap Yorath ap Meyric.
Their son, Thomas ap Robert, married Jane, daughter and heir of William Herbert Vayne of Llandenny.
[It was at this point that the "ap" prefix became "P" and Jane and Herbert had a son, Walter ap Robert who became known as Walter Probert.]
Their son Walter Probert married Dorothy, daughter of Sir Christopher Baynham, knight, of Clearwell in Newland, Gloucestershire.
Their son George Probert married Joan, daughter of William Warren of St Briavel's.
Their son, William Probert of Pant-glas, married Ann, reputed daughter of William, Earl of Worcester ("Llyfr Baglan", 1607)
Sir George Probert sold Pant-glas in 1670 to Sir Trevor Williams of Llangibby, bart., and seems to have purchased the Argoed. He married Maud.
Their son, Henry Probert of the Argoed, esq, married and had a daughter and heir, Elizabeth, married to William Morgan of Coed-y-goras in the county of Glamorgan, gent., who seems to have become into possession of the Argoed around 1730.
Pant-glas, now called "Penglaze", is a fine old farmhouse in the chapelry of Trellech Grange.
John Hobson Matthews
Monmouth. 14 September 1905."