Comedy dominates autumn Film Night programme

August 2nd 2016
Film Night in Pelham Hall and Films on the Narth continue their joint 2016 season in September with a programme of seven contemporary films, shown at alternate venues on a two-a-month basis.
Films will be shown on Friday evenings at both venues with doors opening at 19:00 for a 19:30 showing. The entry charge is £5 and refreshments, both alcoholic and non-alcoholic will be available at the bar.
Our Autumn 2016 programme follows below
---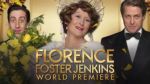 9th September, Pelham Hall: Florence Foster Jenkins [PG] Florence Foster Jenkins provided musical instruments for underprivileged children and set up The Verdi Club where she produced, directed and starred in tacky shows for high society. But she always wanted to sing opera, despite her tone-deafness and distinct lack of talent. Meryl Streep is wonderful in the title role. Fabulous!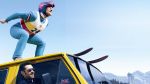 23rd September, The Narth: Eddie the Eagle [PG] "A feel-good, crowd-pleasing triumph, this terrific underdog tale based on the astonishing sporting exploits of Eddie "The Eagle" Edwards has that touch of The Full Monty/Billy Elliot Brit-crafted magic, with dashes of Ealing comedy thrown in. The undeniable power and emotional richness of the entire endeavour makes for a captivating success."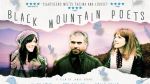 14th October, Pelham Hall: Black Mountain Poets [15] Comically skewering creative pretensions, this is a sharply observed and very funny film. Endearingly haphazard sisters Claire and Lisa are first seen in a failed attempt to steal a JCB. On the run from the police, they end up in disguise at a "poetry retreat" in Wales' damp Black Mountains. Beautifully shot on a minimal budget, it's all done warmly and affectionately.
28th October, the Narth: Love and Friendship [U] Skilfully adapted by American Whit Stillman from Jane Austen's novella "Lady Susan", the film is dominated by a mesmerising performance from Kate Beckinsale as the notorious Lady Susan Vernon. Excellent cast, delicious, witty – simply great fun. "Channelling and embellishing the source material's subversion, Stillman toys with the traditional trappings of period drama, throwing out the stuffiness in favour of something terrifically fresh and oh-so wonderfully wicked."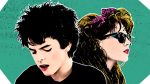 11th November, Pelham Hall: Sing Street [12A] Quite simply one of the nicest films you'll see in ages. Written and directed by Irish director John Carney, who made the equally impressive Once. Like that 2007 Oscar winner, Sing Street is a film about emotions and music. The setting is Dublin in 1985 where a lovestruck 15-year-old schoolboy woos a girl with his futurist" pop band and the opportunity to appear in a music video.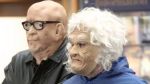 25th November, The Narth: Golden Years [12A] A gentle Ealing-like comedy with a serious undertone – and a lovely cast of British acting talent: Bernard Hill, Simon Callow, Virginia McKenna, Una Stubbs and Phil Davies. Hill's opportunistic OAP is furious with the bank for frittering away his pension. When his wife needs expensive medical treatment, he becomes a regular Robin Hood, forming a gang and robbing banks!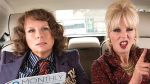 9th December, Pelham Hall: Absolutely Fabulous – The Movie [12A] 25 Years on, but you know what to expect! Apparently they haven't lost their touch. The team are joined by some new celebrity names, including Kate Moss and Stella McCartney.