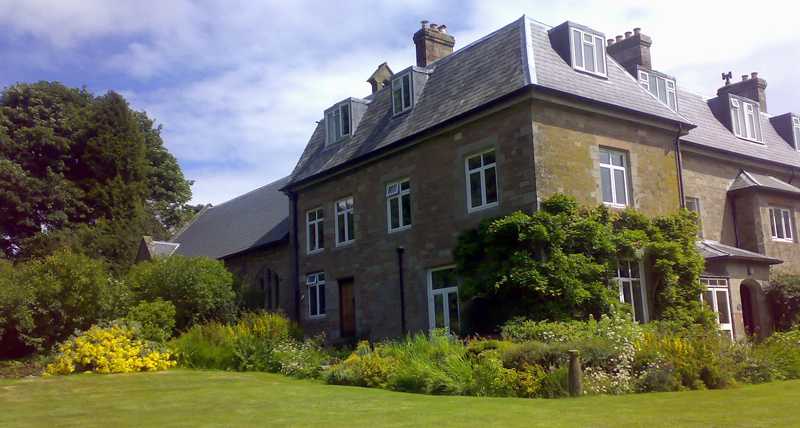 The Society of the Sacred Cross
The founder of the Community was the Rev E A Glover, parish priest of St George's Church, Wyke, Chichester, and in 1912 the Society came into existence. In December 1914 the first members were admitted. In 1923 four of the group felt drawn to a more complete life of prayer and, with the help of the founder, they brought the convent to Wales, to Ty Mawr, Lydart.
Their numbers grew and the house was enlarged. The foundation stone of the beautiful chapel was laid in 1928 and the building dedicated in 1929. The sisters spend their days in paryer, study and manual labour.
In 1980 Reverend Mother wrote 'Over the years the life has developed and the numbers increased so that now there are 21 Sisters, 4 novices and one postulant. Around this group there are nearly 24 Oblates, and over 80 Associates, men and women. These are people of varying ages, some living in retirement, others just beginning their life's work, but all feeling the need of fellowship with the Society, and the help and encouragement gained from having a share in the regular life of prayer and worship of Almighty god, which is the raison d'être of the Religious Life.
This does not mean that we, the Sisters, spend all our time in Chapel on our knees – far from it! It does mean that everything we say and do in our relationships one with another and with those with whom we come in contact in our prayer and intercession – in our work in field and garden – we try to do in love for God and for mankind.
Our life is based on a regular round of prayer, work, reading, recreation and rest. The chief work of the Community is the celebration of the Eucharist and the recitation of the Divine Office. This is a series of services held at intervals throughout the day, the chief ones being Matins and Evensong with Terce, Sext, None said at 9am, mid-day and 1 pm and compline at 8pm. Each Sister spends two hours daily in private prayer which is usually divided up between morning, afternoon and evening. She also has half an hour a day for spiritual reading.
Here at Ty Mawr we run a small farm and are therefore self-supporting to a lrge extent. Our five Jersey cows provide us with milk, butter and cheese; hens produce all the eggs needed with a surplus for sale; we grow our vegetables in a kitchen garden and the orchards and fruit cages supply us with a goodly quantity of fruit for eating, jam-making, bottling and freezing. We also grow our own potatoes and make our own bread, although we buy the flour.
We have room in the Convent for six guests and six more can stay in the annexe at Michaelgarth, across one of our fields; the latter being very useful as families with children can stay there. During the summer months both places are generally full. Some people come for a holiday, enjoying the quiet, the beautiful countryside and the framework of a life of prayer; others come to make a retreat or think out a problem or a call to new work. Theological students come during vacations to study and to help in manual labour, doing such useful things as redecorating rooms, helping with the hay harvest, hedging or lifting potatoes, depending on the time of year.
Many people come with personal problems and very many write to ask our prayers, either for themselves or for others in distress, need, sickness, suffering and sorrow. Very often we never meet those for whom we pray but there comes a sense of knowing a person and a bond is established through prayer.
Our day begins at 5.40am and ends at 10pm and, as you can see from the above account, it is not spend tin idleness. We do have a daily period of 45 minutes for recreation which we spend either all together or in groups talking, listening to music or to somebody reading aloud. We also have another hour during the day for rest and recreation. This time can be taken as a whole hour or in two separate half hours. I am combining my hour at the moment, resting on my bed and writing this!
Now for a few personal remarks. I joined the Community in 1956 and was elected Superior in 1968. Since then we have revised our Rule and Constitutions, the form of the Divine Office and the services for admission of Novices and Profession of Sisters.
We have also altered our daily timetable to allow for longer periods of work, so much needed in field and garden, and in fact there is hardly any aspect of our life that has not been discussed and altered in some way. This seems to be common to most Communities and we are feeling the benefit now, though it was uphill work while it lasted. With four Novices and a Postulant about to join us we look forward to the continued growth of the Society as it moves forward on the path of service to God and in service to mankind.
Finally, I would like to say that if any of you who read this would like to come and stay as a guest of Ty Mawr, you would be very welcome.
Sadly now in 1989, the number of sisters has fallen and increasing years must make the physical work very hard for them, but the beauty and peace of the gardens and the chapel plainsong services are still something to be remembered, as indeed they are by many, many visitors from all over the world.
[from: Penallt – A Village Miscellany]