Games of cricket – a rare leveller of the classes – played in Penallt at the end of the nineteenth century were described in the parish magazines of the time, sometimes in "straight faced" style. In the early summer of 1890 the match with Redbrook resulted in a tie, each side scoring 60 runs. The return match was played at Moorcroft in June and "wonder to relate, again the two sides were exactly equal in the first innings, the totals on this occasion being 42." The Penallt opening bats, Hon. A.L. Pelham and F. Herbert, each scored one run, but Pelham took eight wickets in Redbrook's innings. Penallt scored 21 all out in their second innings (highest score, Pelham with 11) but Redbrook managed only 9 for 4 wickets. Presumably rain stopped play.
Pelham took six wickets off Llandogo earlier in the year and on that occasion scored 34 runs – proof if it were needed of his family's cricketing reputation – while the vicar, Rev. R.P. Goldney scored the only duck. Penallt scored 142 and Llandogo 20 in this single innings match. The contemporary report is intriguing at one point when it refers to Llandogo as causing "some surprise by turning up, apparently in an exhausted condition, at a quarter past four. Their late arrival having been satisfactorily accounted for, they won the toss…" Why they were exhausted on arrival we might guess but how they accounted for it we shall never know.
The Penallt team had themselves been sternly warned in an earlier magazine when the editor wrote "It has been well said that 'Punctuality is the soul of cricket' and when a match has been advertised to begin at 2.30, it is extremely trying to a captain's temper to see some of his eleven slowly sauntering on to the ground at 3 p.m." Such a thing could never happen here today – could it?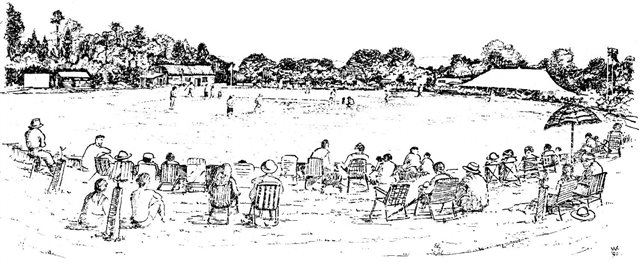 Penallt inaugurated their renovated cricket ground in 1990 with a gala match against Worcestershire CC
[from: Penallt Revisited]