I was ten in October 1944 and it was about this time that Hilda's brother David came to live with us at the bungalow. He had been seriously ill and I think Hilda felt that it was her duty to look after him. My impression was that Uncle Rush was not altogether happy about this arrangement. The lack of space in the little bungalow must have made life quite difficult but I was never made to feel that I was in the way.
David had been one of two brothers who had left Monmouthshire in the early twenties to make a new life in Canada. I suspect that his marriage must have been a troubled one for him to leave a wife and daughter and travel so far away. I think like Rushton he must have trained as a printer. He told me that he had settled near Winnipeg and eventually wrote, edited and printed a weekly newspaper for a small community there. When he returned from Canada he went to live in Surrey and worked as a compositor for a printing firm in Woking.
He always struck me as a bit of a loner and I could never feel as comfortable with him as I did with Rushton. He had a habit when he first arrived, which I couldn't bear and I don't think Hilda liked it either, of taking snuff. He carried the yellow brown powder in a silver snuff box in his waistcoat pocket and was continually taking it out and sniffing the powder up his nose. He said it cleared his head but it also left all his handkerchiefs stained brown and no matter how well Hilda washed them, they ended up permanently discoloured. He eventually took to cigarettes instead. There was no doubt he had a talent for writing and he could tell a good story. He made little books for me out of oddments of notepaper and wrote in them in his beautiful copperplate sentimental adventure stories set in the snowy wastes of Saskatchewan. When I returned to London after the war he wrote me long letters with descriptions of the weather and village events.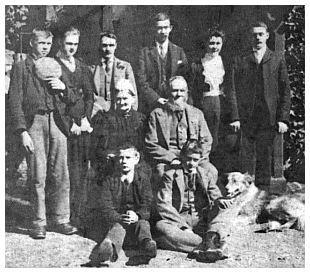 He was good at making things out of wood like the whistles and boomerangs he made for me and Joy and the village children but there was something in the way he followed us about that sometimes made me feel uneasy. I think Rushton, who was so natural, honest and straightforward, found it difficult to communicate with him. Looking back, I think he must have been very lonely at times rather lost, finding it difficult to fit in and have a recognized role in his changed circumstances. He would spend hours making rag mats out of oddments of material, some of which were cleverly patterned and designed. These were used to brighten and give some warmth to the stone floor in the kitchen.
The first weekend after New Year 1945 my mother and Gerald came to Penallt for a couple of days. Perhaps my mother wanted to prepare me for my eventual return to London. The end of the War was in sight with certain victory for the Allies. I couldn't quite take in that Penallt would be my home no longer. Gerald helped Mrs Porter with her post round and seemed quite grown up. He was now fourteen years old and being talented at art had gained a place at St. Martin's in Charing Cross Road. I was delighted to see my mother and brother of course but the idea of a life in London still seemed a distant prospect. Gerald and my mother came to Sunday tea at Cartref and, having said their goodbyes, left for London the next day.
Towards the end of January there were several heavy falls of snow and I was often the only one to turn up for school. Rushton still lit the old coke stove every morning to warm up the building and I used to sit beside it and read. I loved those peaceful mornings reading, the big black stove warming my toes and just Rushton for company. One icy Friday market day no bus came and Hilda, then in her sixties, walked to Monmouth so determined was she not to change her shopping routine.
In February, we received a letter from my mother telling us that she and Dad were arranging to rent a small terraced 1930's house from one of her colleagues at the Ministry of Supply where she was now working as a clerk. They would be moving in right away. At last she and Dad would have a place of their own. The house was in Forest Gate, East London, a place my parents knew well as they had both been brought up in that area.
A big Pickford's van came to Penallt School to take the desks and books back to Folkestone, where a group of evacuees were now returning. With the Birmingham children gone as well, the school seemed very empty. I was one of the few evacuees remaining. The school was often closed during this time because of a shortage of coal.
As March drew nearer my dread of the scholarship exam I had been entered for grew overwhelming. I went with a little group from Penallt School to a much larger school in Monmouth to sit the exam. The dusty classroom had that particular smell of ink and chalk, which churned my stomach. I can't remember being given any advice on how to approach the exam except for an extra lesson in fractions, which were still a mystery to me. Everyone except me seemed to think I would do well and that made it even worse. I think I had failed myself even before I began.
It was during that time that a scare story was going around Penallt about a couple of German prisoners of war who had escaped from a prison camp in South Wales. Someone said they had been seen in the Lone and Barn Lanes. I had been given strict instructions not to go too far from home and definitely not to talk to strangers. The prisoners were eventually captured at Rockfield just outside Monmouth.
The only strangers Joy and I had encountered were two American soldiers who stopped their jeep at the crossroads one day to talk to us. "Hi there," they said in their twangy accents, "Would you kids like some gum?" I didn't even know what gum was in those days but Joy, always so much more knowing than I was, took some with a winning smile. The soldiers, looking foreign and exotic to me in their smart light uniforms so different from the heavy khaki our soldiers wore, gave us a friendly wave as they drove away. Joy offered me some of the gum but I was too frightened to try it having been warned by Hilda never to take sweets from strangers.
Meanwhile, Penallt was preparing for its Victory celebrations. In the garden Uncle Dave had sown a small square of mixed flower seeds for me and some mustard and cress carefully arranged to form the word VICTORY which appeared like magic one morning in the middle of the vegetable patch.
On 26th March, Rushton heard on Ted and Mamie's radio that Lloyd George had died. He told me the famous Welshman had made a great impression on him when he saw him with his great mane of white hair and thick white moustache giving a public address to a crowded Agincourt Square just after the First World War.
Gerald came to stay at the Porters during the Easter holidays. He had grown rather fond of their daughter Enid, a dark haired beauty, and took a lot more notice of her than he did of me. However, he joined Rushton, Hilda, Dave and me on some long walks and it was good to have the company of my big brother again. He returned to London after ten days and the day he went I heard the cuckoo for the first time that year. The cuckoo call echoing across the empty fields was a thrilling sound to my young ears and heralded the summer, which came early in mid- April, with some days as hot as mid-summer. On one of those warm summery days, Friday, April 13th we heard that another great statesman, far away over the Atlantic Ocean, had died – President Roosevelt .
The following Tuesday, Joy and I walked down the steep hill of Lone Lane with Hilda to Penallt Halt, where we caught the little diesel train into Monmouth to see Sangers Circus in a big top set up in the large green area known as Chippenham. It was my first visit to a circus but I can't remember what circus acts there were. What stands out vividly in my mind, however, and I think it must have been on that occasion, was a display of horsemanship given by a team of Gurkha soldiers, who were the handsomest, most impressive looking men I had ever seen. They wore elegant light uniforms and wonderful turbans with tassels hanging down gracefully at the back. One of the horsemen rode so close to me sitting in the front that I could have touched him. Hilda whispered to me excitedly, "Touch his tassel. It will bring you luck." How she knew this I couldn't say and I was far too shy and nervous to do such a thing.
A week or so later, Auntie Hilda and Uncle Dave were invited to a wedding in Croydon, where their cousin Emily lived. I was to travel with them and visit my parents in Forest Gate to see the house where I would shortly live. I still couldn't quite come to terms with the fact that I would be going back to London for good. My mother was waiting to meet me off the train at Paddington Station, which seemed to me enormous, noisy and confusing with people scurrying to and fro in all directions.
I can't remember much about that visit except that the house seemed a long way from the centre of London and when we came out of Upton Park station into Green Street, a wasteland of rubble surrounded us, so badly had the area been bombed. However, although quite small our house in Katherine Road was the most modern I had ever experienced. It had a proper bathroom with an indoor toilet. My mother explained that her older sister Aunt Min would be living with us for a time, while the house in Highbury was being repaired.
I went back to Penallt accompanied by my mum and dad on May 5th. The next afternoon, Sunday, my parents, Hilda, Rush, David, Joy and I walked through the bluebell wood in Colonels Park. The intense blue and sweet perfume seemed exceptional that year but we had said that the previous year and even now we still think each year's flowering better than the last.
On Monday, May 7th it was announced on the radio that the war with Germany was over and that Tuesday and Wednesday would be Victory days. The bed of cress with the letters VICTORY was much admired as was my colourful patch of mixed flower seeds. Uncle Rush had stuck small union jacks all over the rose bower.
Friday 11th May was my last day of being evacuated. I had lived in Penallt for nearly five years, half my life, and it was more home to me then than London had ever been. Thinking back, I can imagine how painful that parting must have been for Rushton and Hilda, who had given me such unselfish love and care throughout my time with them.
Somehow or other my parents had acquired a big old fashioned radio in a wooden case, one of those requiring heavy Exide batteries, and presented it to the Englands as a parting gift. It was the first radio they had ever owned. Rushton became an avid listener of The Archers and likened himself to Walter Gabriel, one of the original characters, now long dead, always greeting me with "How are you my old pal, my old beauty?" when I visited during the school holidays.
[Click here for overview]