This is a small vignette of times remembered, and looking back after more than thirty years, the memories of Penallt, Whitebrook and the Narth are indelibly vivid.
Fields and woods dominated the landscape and the small cottages that edged the lanes were always a delight to linger by, with their mixture of flowers and pride of vegetables. There was a track through the pine forest, starting at the Whitebrook crossroads, which reminded one of a cathedral cloister, so straight were the trunks and even the planting. About that time most of the forest ponies had been replaced by tractors, but occasionally one spotted an old horse working where tractors could not go.
In severe winters it was a silent world. The lanes were frozen wastes with drifting snow frozen into high walls and massive blocks of ice sculptured by the wind.
Welcome Spring! – and the carpets of Lent lilies and the apple green of the larch gave us hope of warmer days and the freedom of summer. The first annual 'must' was the abundant elvers at 9d per lb, fried with salt bacon; they were sold by a hawker from door to door. Mrs G Gleed of Penygarn Farm made the most delicious butter and it was well worth the journey to collect half a pound. Later there were whinberries which filled a delicious tart and left us with stained teeth and lips. There was always wood available for firing and all these forays gave us healthy pleasures. For a brief time on a summer's night glow-worms in the hedgerows and in the crevices of steps lit us home.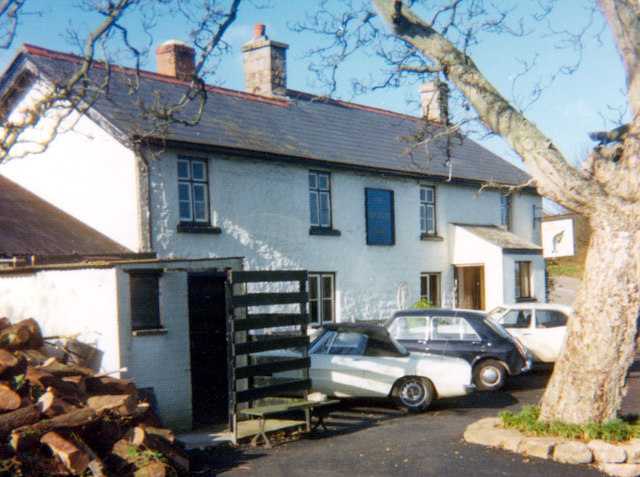 The Gockett was the proverbial village pub and the owner was a postman and smallholder. One of his customers was an old lady who travelled to Monmouth every Friday in a cart, pulled by a most discerning donkey. On the return journey it would stop outside the pub and resolutely refuse to move, in spite of beatings, until it had enjoyed a pint!
I remember being told by the owner of two railway carriages how he had purchased them from Swindon for £50 each. They had been pulled up the Lydart by horses and site in a filed. Here a healthy family lived and children were born and thrived.
Standing by Mrs Porter's village shop, which was near the Baptist Chapel in Whitebrook, we watched the first sputnik pass over. Mouths opened in disbelief as we looked skywards.
Our telephones were operated by a manual exchange at Trellech and nearly always either Mr or Miss Davis could advise us on the best vets or where and absent neighbour was. They had a mass of information.
The day came when electricity arrived. The Electricity Board persuaded us to install storage heaters. They told us that the more electricity we used, the cheaper it would be. However it was 'discovered' that a larger transformer was needed before they would connect us and we were required to pay £100 per house. This we refused and the difference of opinion was prolonged but we finally won the day.
On a Sunday morning it was a pilgrimage to the Meet at The Boat. There were children on shaggy ponies, dogs and walkers, and many stayed outside to watch the salmon leap. Quite a Thelwell scene!
There was lady who shopped in Chepstow, leaving her car at the Whitebrook Halt to take the train. One day when they were well on their way, she realised she had left something important in her car, so she pulled the communication cord and the train screeched to a halt. The driver walked back to inquire what was wrong and she explained her predicament. After making sure no-one was in a hurry, he reversed the train back to the station, she retrieved her parcel and once more they proceeded to Chepstow.
A similar story from more recent times is of Una, our milk lady, who had driven Miss Charles early to Parkway, and settling her into the railway carriage, had not been able to get out before the train started! She arrived at Paddington in her wellies and we at Penallt were all awaiting our milk! The tragic death of both Una and Miss Charles in a fire some years later saddened all who knew them.
And then there was the vicar who occasionally needed a prompter! It was part of the colour of village life to remember with amusement and fun. They were very happy days and there were so many more memorable occasions that, when I retire to my rocking chair and lace cap, with a little more prompting they will come flooding back.
[from: Penallt – A Village Miscellany]