Many Penallt householders have been busy recently, taking broadband download speed tests and completing the Welsh Assembly Broadband Support scheme application form. On Friday August 31st, David May delivered 78 completed forms to the Broadband Support scheme office – so now they are out of our hands and into those of the authorities. Each application, if successful, could result in the award of £1000 towards the cost of the village broadband upgrade.
Every document will now be read and assessed and, if approved, will result in each applicant hearing from the Broadband Support office and being asked to give assent to the grant being awarded to our preferred provider, Spectrum Internet.
Some statistics from the applications: the average download speeds were 0.78 Mbps (morning), 0.71 Mbps (afternoon) and 0.69 Mbps (evening). By comparison, the UK average has recently been upgraded from last November's figure of 7.6 Mbps to the current estimate of 9.0 Mbps, over 12 times the average speed of Penallt applicants!
Spectrum Internet had a stand at Thursday's Monmouthshire Show and several Penallt residents dropped by to find out more about the proposed solution. Claire Brown was there representing Spectrum and she mentioned that Spectrum were currently trialling the supply of telephony to home users and were planning to launch this feature in September.
She also advised those in the Penallt scheme who were coming to the end of their current broadband contracts that it would be easier to swap to a provider offering monthly contracts rather than annual ones in the meantime to ease transfer when the time comes to change to Spectrum. There are not many providers who do offer monthly contracts however but, luckily, one which does, Zen Internet, also happens to be the Which? top rated provider.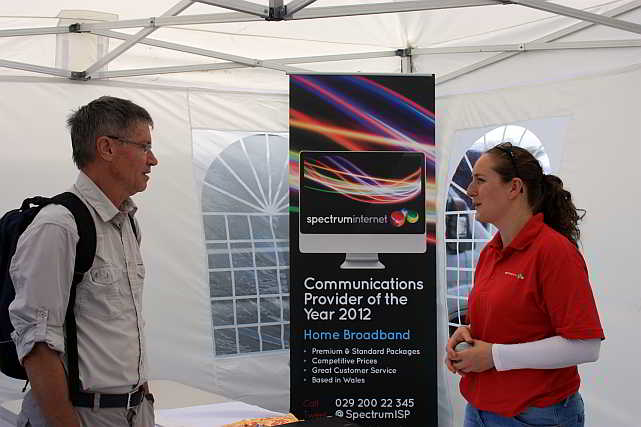 David May and Claire Brown of Spectrum Internet