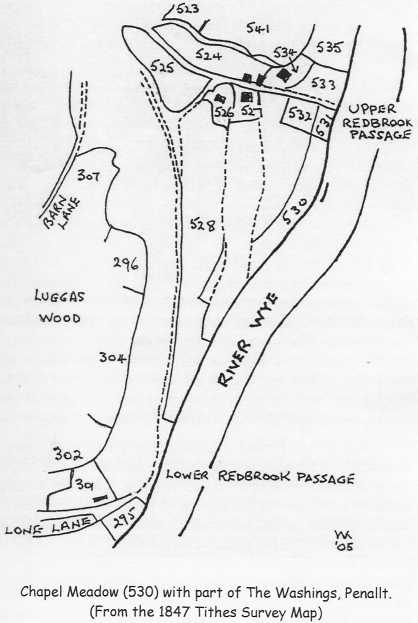 The Miscellany makes brief reference to this building giving its location on the west bank of the Wye. Confirmation is found in the survey map of 1847 made by the Government's tithe commissioner. Registered as Chapel Meadow and down to grass in the1840s, it seems that the building itself had disappeared by then. Yet within living memory, a Mr Moulsome living in Old Mill Cottage (which has not been identified so far but must presumably have been adjoining) claimed that his orchard was the burial ground of the chapel. It is arguable that a wayside chapel would not have a burial ground attached. But Mrs. Lilian Boycott who lived in Japonica Cottage above the Glyn told the writer that she used to go courting in the neighbourhood, often sitting on the wall overlooking the meadow and wondering if the ghosts would appear.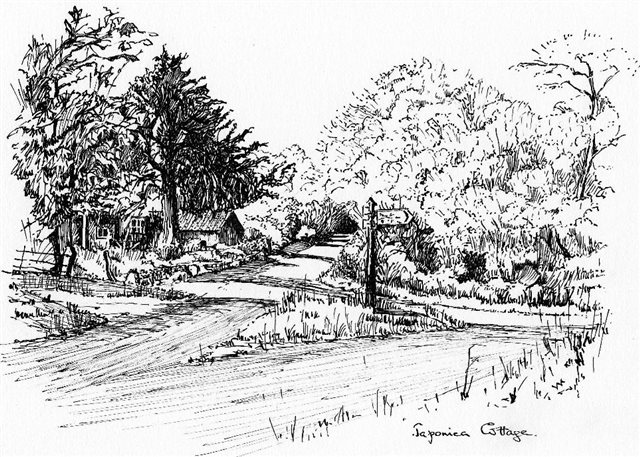 That the chapel existed there is no doubt. Bradney recalls that "at or near the Redbrook ferry stood formerly a church or chapel of which nothing is known, dedicated to St Denis." He cites a lease of 1594 "of a parcel of meadow ground in Penallt called Gworlod y cappell" (Gworlod is a misspelling of Gwaelod meaning "bottom" or low lying ground) containing 4 acres "claimed by Christopher Probert." The land is described, inter alia, as being bounded by "Cappell St Denys on the north." The chapel was still in existence eighty years later for in 1677 a survey of the manor of Trellech referred to the boundary of the manor as "running from the mouth of the river Trothy down the said river of Wye …. to St Dennis Chappell and so to a passage or ferry adjoining to the said chappell…."
This appears to be the sum of our knowledge about the chapel but dedicated as it was to a French saint, it is not too fanciful to regard it as having been linked to the Old Church. For the Old Church itself was from earliest days, not only a chapel of Trellech church, but with Trellech belonged to Chepstow Priory, a daughter foundation of the Benedictine Abbey of Cormeilles in Normandy. Nor would it have been unusual for a wayside chapel to be built, where land and water traffic met, to serve the daily needs of both travellers and the Penallt inhabitants nearby.
[from: Penallt Revisited]