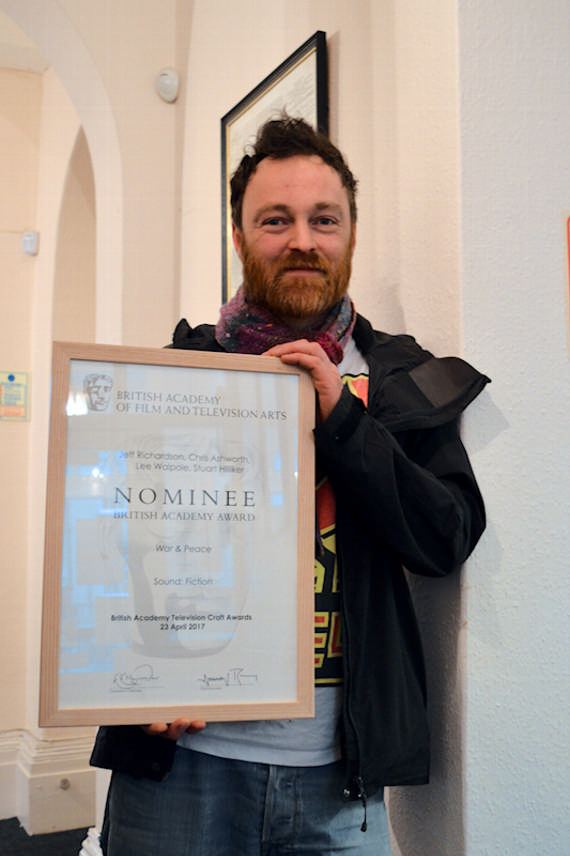 From the Monmouthshire Beacon 12/01/2018
An award-winning Monmouth man is proving to pupils across the county that there are plenty of careers to choose from away from the usual suggestions.
Since leaving Monmouth Comprehensive School, Penallt farmer's son, Jeff Richardson, has kept one foot in the Welsh countryside and one foot en route to Hollywood, with an award-winning career editing sound for popular TV, film and more.
His awards include the American Golden Reel award for his sound editing on Halo Nightfall, two BAFTA nominations, and two Royal Television Society (RTS) award wins. His latest RTS award, presented in December was for best sound on BBC's hit grizzly 19th century-set drama, Taboo.
Mr Richardson, 40, has spent 20 years in the industry. Starting at Loco Recording Studios in Usk as an assistant, then working as a runner in London, before climbing the ladder and launching his own sound studio, Noise London, in Soho.
He then turned freelance in 2008, landing work on huge hits such as The Crown, The Duchess, The Woman in Black, London has Fallen, War and Peace, Taboo, and most recently Little Women which aired on the BBC over Christmas. He has also just finished his part creating the sound for Sir Ridley Scott's next series, The Terror, which will be out later this year.
Despite jobs that have taken him around the world, the part-time farmer remains local, as he expands his scenic Penallt family farm, creating organic produce and planting a 100-tree orchard as well as native woodland of around 8,000 trees.
He is also hoping to work with his old school, to discuss his career with students and the many options available in the entertainment industry. He added: "There is a whole myriad of creative jobs out there that youngsters may initially find it hard to access, but hard work and perseverance is pretty much the only way to get there, oh and a whole load of good luck to boot."