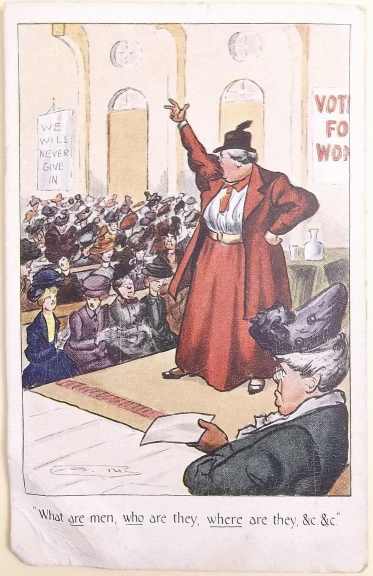 From The Monmouthshire Beacon 28/03/2018
A POSTCARD written to a Monmouth woman by the suffragette Emmeline Pankhurst is to go under the hammer, 100 years after women first won the right to vote in the UK.
A British political activist, Emmeline Pankhurst was leader of the British suffragette movement, and in 1999 was named by Time magazine as one of the 100 Most Important People of the 20th Century.
The collectable postcard was brought into a roadshow held by Smiths Auctions for Hendre WI in Monmouth.
The item in question is a collectable suffragette cartoon postcard (see image right for front side) but what made it truly out of the ordinary was that it was written and signed by Emmeline Pankhurst herself. The owner explained that her husband's grandmother was the addressee on the card and that although the family had not been aware of her feminist activities it appears that she must have been involved in some way with the suffragette movement.
Addressed to a Miss E Herbert of Penallt, the note on the card enquires as to how many meetings Miss Herbert has attended recently and that she 'trusts that she will see her' at a meeting that she is holding at the Rolls Hall in Monmouth the following week.
"At first the owner was not keen to sell his family heirloom, but after some thought he decided that the card might be better appreciated if sold to a collector or even a museum," said Smiths Auctions valuer Rita Kearsey.
"It will be the centrepiece of the specialist postcard section in the sale and is estimated at £200/£300. Of course with the centenary of the suffragette vote being this year it is a very topical item and it is hoped it will attract significant attention."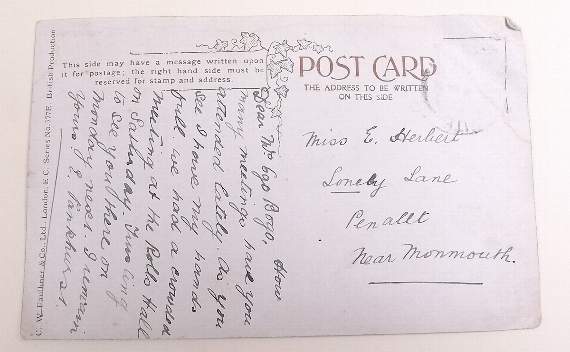 See (a little) more about Miss Herbert here. Note the address as "Lonely Lane" …