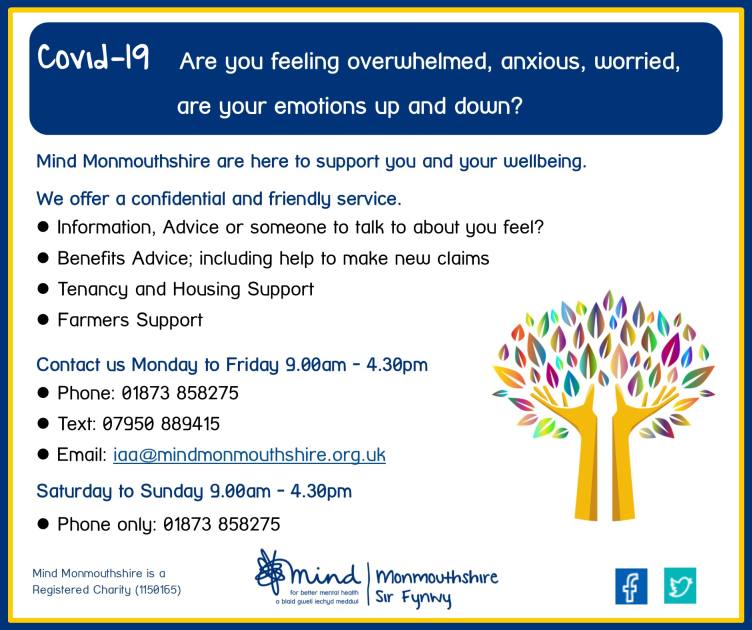 Mental Health Support in Monmouthshire
Mind Monmouthshire are here to listen and support you. We are available to provide, confidential emotional support, information, and advice during these difficult times. It may be that you, or someone you know, is anxious, stressed or feels overwhelmed with issues relating to COVID 19. Sometimes just a chat can be of help when emotions are up and down.
We are here Monday to Friday 9.00am – 4.30pm and at weekends (see detail below) and can be contacted in the following ways:
Text and Talk: 07520 619031
Email: [email protected]
Phone: 01873 858275
Time to Talk Weekly: Fancy a weekly chat with one of our team? Call or email to book.
Weekends: we are available 9.00am – 4.30 pm on 01873 858275 only.
In addition to the above, we also provide the following services to individuals in Monmouthshire:
Benefits Advice Service: providing support to individuals with benefit queries; including making claims for Universal Credit.
Farmers Support Service: offering a bespoke support service to the farming community.
Tenancy Support: Supporting individuals with housing and tenancy needs.
Kind Regards,
Mind Monmouthshire
Why not follow us on Twitter? twitter.com/mindinmon
Facebook: facebook.com/MindMonmouthshire