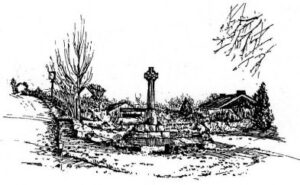 To accompany this page, there are two other sections to this account of the Penallt War Memorial:-
The restoration project (including a video of the work carried out), and
Brief biographies of those who fell in the Great War
---
The War Memorial at Penallt, Monmouthshire, Wales, was designed and created by a Village War Committee after the Great War. In October 1919, the committee decided to hold a series of events to raise funds and accepted donations from villagers. Chair of the committee was the Vicar of Penallt, the Reverend John Le Geyt du Heaume.
A local stonemason, Mr Ballinger was commissioned to make the Memorial at his Dingestow workshop.
The Monmouthshire Beacon ran a small article on 1st February 1921, informing readers that:
"War memorial. – Some time ago a meeting of the War Memorial Committee took place at which Mr Ballinger's tender for erecting a memorial cross in blue Portland stone, with base and three steps, was accepted. The site will be a strip of grass opposite the Vicarage gates. The monument will be ready for unveiling on Palm Sunday. The fund is in hand and is £10 short of the estimate fee."
The Memorial cost £88-6s and was quite a lot of money in 1921. For some families in the village, this was around three times their annual household income. A final payment of £15-11s was made to Mr Ballinger on Armistice Day, November 11th 1921.
The Friday, March 4th 1921, edition of The Beacon announced that the Penallt War Memorial was to be unveiled at 2.30 p.m. on Saturday 12th March 1921.
The Friday March 18th 1921, edition of The Beacon reported on the unveiling ceremony of The Penallt War Memorial at Pentwyn, Penallt, Near to the Bush Inn. The Memorial was unveiled by The Mackintosh of Mackintosh, a famous name of the times.
A video of reconstructed speeches made at the unveiling follows:-
"The inscription on the memorial reads 'To the Immortal Memory of the Men of this Parish who died for God, King and Country in the Great War, 1914-1919. In Loving Gratitude from their Friends at Penallt.'
The fourteen names of the men of this parish who made the supreme sacrifice are not on the memorial but were written and placed in a sealed bottle which is in the base. The bottle also contains the names of the committee.
The names of the fallen are: R. Pearce-Brown, S. Davies, J. Gleed, E.T. Cope, R. Gunter, A. England, R. England, G. Wilkins, Victor Wilkins, Charles Vaughan, E. Morgan, W. Morgan, F. Wilkins, F. Roberts."
(N.B. This report in The Beacon had a number of errors: A. England died of natural causes, E.T. Cope was actually G.E. Cope and F. Roberts was actually P. Roberts.)
A survey in 2010 showed that the memorial was in a very poor condition and beginning to lean. The base stones were separating, making the structure unstable. A restoration project then began.
Brief biographies of the fallen
Compiled by Peter and Linda Garwood with funding from:
Lottery Heritage Fund, War Memorials Trust, Trellech United Community Council, Royal Naval Association, Western Front Association, Royal British Legion, Monmouthshire County Council and private donations.
Peter and Linda Garwood 2017