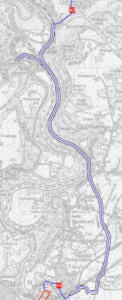 Sustrans are currently seeking permission to create a cycle route along the Wye from Brockweir to Chepstow, the route being shown onthe right.
The original plan, plus current comments for and against, plus an opportunity to comment on the plans is available on the Monmouthshire Council site1. The deadline for making comments was 19th October 2010.
More information is also available from Wye Valley Communities for Safe Cycling. This site also provides a link to register your comments with the Forest of Dean District Council.
[17/10/2010: The Forest of Dean District Council has granted permission for the proposed route and say "it is considered that the proposal is acceptable as it will not cause any further harm to highway safety, and car parking demands and protected species have been appropriately addressed. It will also promote tourism within the area, meets the aims of sustainable development and does not conflict with the aims and objectives of certain policies of the district local plan review".
The next stage in the approval process is governed by Monmouthshire County Council who will consider the proposal in due course.]
---
Monmouth to Redbrook Road section
These two letters to the Monmouthshire Beacon earlier this year show progress on the northern section of the cycle route:
These plans were lodged earlier this year and the discussion period is now over. Comments on the planning application may still be read however and can be found here2 and here3.
---
Redbrook Road to Brockweir section
The section between Wyesham and Redbrook has planning permission for but Sustrans has not been able to buy the land.
From The Boat down to Bigsweir Bridge is possible via a private road which Sustrans would need to get permission to use.
---
1 2 3 Each of these may be accessed by visiting the UKPlanning website and then selecting Monmouthshire Council, Wales. Under the Options menu, select Search Applications. In the Application Mumber box enter:
1 2010/00783
2 2010/00079
3 2010/00145
"