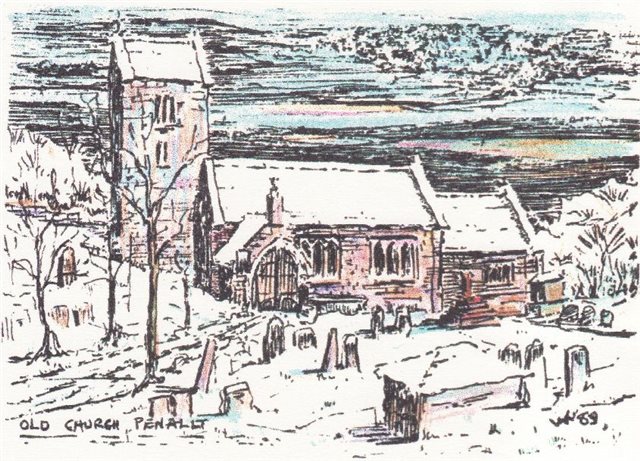 A memory of the Wye Valley
On steep Penallt, whose wind-swept brow stands high
Among the wood-crowned heights that guard the Wye,
Ancient and grey a sanctuary stands,
Hoary and moss-wreathed by the mellowing hands
Of long-past years. No carven towers adorn
Her modest stateliness, but old and worn
Like aged mother, watching from the steep,
The sacred garden where her children sleep,
Waiting, in Faith and Hope, beneath the sod,
The awak'ning trump across the hills of God.
Oh grey old shrine, what sacred memories cling
Around thy hallowed walls and seem to bring,
On memory's refluent tide, the vanished years,
With scenes too sweet and griefs too deep for tears!
Again, I see beneath the arching bowers,
The joyous bridal train, all bright with flowers.
Bells pour their joy as, from the portal grey,
They pass with benediction on their way.
Once more thy aisles are consecrate with tears
As, sad and slow, the mourners' band appears,
Bringing their dead, to lie in dreamless rest,
Cradled to sleep in nature's holy breast;
God's harvest home, where earth's sweet ties divide,
Until the glorious Resurrectiontide.
Sweetly the echoes fall of memory's chime,
Recalling childhood's days, and youth's sweet time,
When through the woodland aisles and meadows sweet
With summer glory passed our gladsome feet,
Responsive to the sound of Sabbath bell,
Swinging its silvery call o'er hill and dell.
Those years have passed; close-linked around thy feet,
With golden chain of memories, sad and sweet,
Old time, with circle of eternal change,
Links past with present. Younger footsteps range
The breezy hill, and tread the primrose lane,
To meet in worship in thy hallowed fame;
With prayer and praise another generation fills
The grey old sanctuary among the hills.
Joyce Golder
4th October, 1913
[from: Penallt – A Village Miscellany]