A REPORT ON THE MEETING BELOW, TOGETHER WITH A DETAILED SET OF FAQs IS HERE.
VITAL FIBRE BROADBAND MEETING WITH SPECTRUM INTERNET

Starts at 6.30 pm on Wednesday 6th March 2019 in Pelham Hall
Who should come:-
all those who have applied for vouchers under the Openreach scheme (cabinet 20 area – see below)
all those in the cabinet 20 area who have not applied for vouchers but who are now interested in fibre broadband to the home
all those living close to the cabinet 20 area (e.g. in NP25 4RL and the adjacent parts of 4AW, 4RX and 4RY) interested in fibre broadband to the home
As you may know, we have started a project with Openreach to bring full fibre broadband to the properties covered by cabinet 20 in Lone Lane. The cost of the project is funded mostly by vouchers issued by the DCMS and, at the time of writing, the total value of these funds is within a few thousand of the sum required and there is every prospect of achieving the total soon.
At the same time, we have had an equivalent interest from Spectrum Internet in installing full fibre in the same parts of Penallt and potentially a little further afield too. Spectrum Internet are well known to the village as they provided a greatly enhanced broadband service to those who joined the scheme over 5 years ago and they still have many customers in Penallt.
So far, we have had two meetings with Spectrum Internet and, as a result, we believe that they can offer an alternative solution to that of Openreach and which much better meets the needs of residents too. It could be delivered more quickly, is more technologically advanced and would provide broadband more cheaply to the end-user too.
But we would need your solid support before going any further with Spectrum, so your presence at the meeting on Wednesday next is vitally important! Spectrum will be there to explain their proposal and how it affects residents and businesses. Please make every effort to come, even if you can't get there for the beginning.
David May, Rachael Geddes, Lance Rowell, Steve Davis
---
Details of original Openreach proposal
Spectrum's draft design covers all properties in the area shown below (March 2019).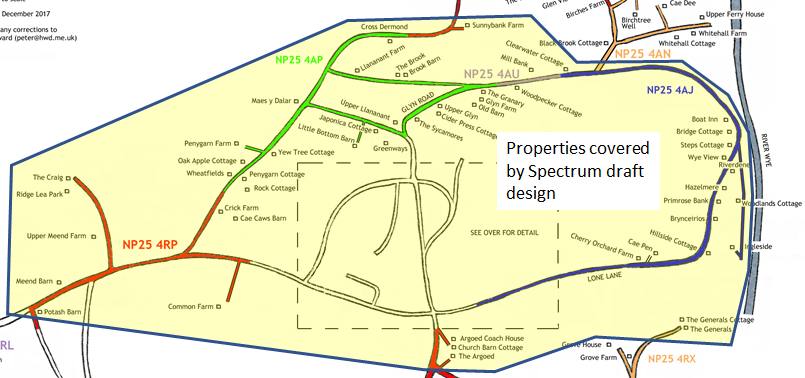 Just to clarify, all properties within the dashed rectangle will of course be included in the scheme.