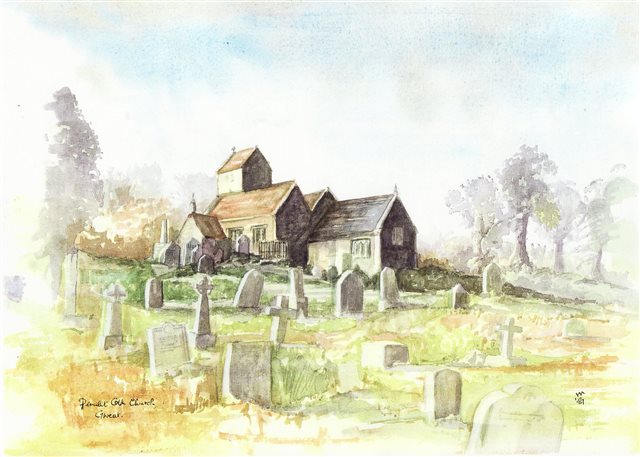 In the 1970s we planned a Flower and Music Festival for the Old Church and in publicising it quoted from an old guidebook and our own Parish leaflet:
"On the summit of a wooded height we see the pretty church of Penallt. It is charmingly situate, looking down on the rich vale it seems at once to bless and protect." Our Parish booklet describes the "very ancient chestnut tree…" some 50 yards outside the lychgate, "near which in former times stood the village stocks and probably the whipping post, and, still existing, the stone mounting block erected for the convenience of worshippers who arrived on horseback." We are hoping the present improvements outside the church will enhance these and the setting generally, as well as enable us to "park prettily".
The proceeds from our Festival will go towards the Tower and Bells Restoration Fund and work will start shortly. It has not been safe to ring the bells (one is date 1662 – the year of the Prayerbook) for some years and the tower will have to be repaired and strengthened before a reinforced bell frame and new ringing system is fitted. Come and help at the Festival – which is in celebration of the Diocese's Diamond Jubilee, as well as our gesture to our parochial past and hope for the future – but best of all tell your friends and get them to come along.
An earlier occasion for a Festival was the Festival of Light. This had rather a poor press nationally, but Penallt decided to participate and a programme of music and readings at the Old Church was arranged and floodlights borrowed from Beachley. The church looked wonderful as we walked up the path, but unfortunately it was all too much for the local transformer and half-way through the programme the church and half of Penallt was plunged into darkness!
The Christmas Eve candlelit service, however, inaugurated in 1961 by the Farrers of Mill House, was the first in the area, and continues to be a most lovely – and almost a mystical – experience, with the church decorated with holly and lit by over a hundred candles. The Farrers had been impressed by a similar service in a little German church when they were stationed there after the war. They were great friends of the church and parish; Peggy Farrer was a churchwarden, WRVS organiser and magistrate. She and Guy will be long and lovingly remembered, and their daughter and grandchildren still maintain contact with Penallt.
[from: Penallt – A Village Miscellany]