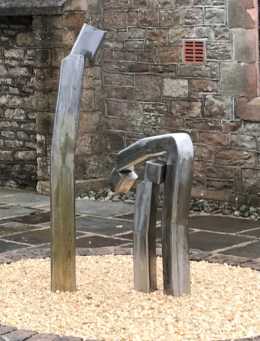 Outside the old county primary school in Penallt, founded in 1834, is now a beautiful sculpture by Herefordshire artist Simon Probyn.
The theme that Simon was commissioned to design was 'First day at School' and Simon has captured the tenderness of one of every family's life changing events admirably in his distinctive style in welded steel.
The school is now a 5* holiday let and owners Ros and Alastair Robertson are really delighted with Simon's work. It complements another of Simon Probyn's works, a spiral steel tower, that is outside the Old St Mary's Church next door, now renamed Capel Pentwyn.
Does this put Penallt in the lead for public art in Monmouthshire's villages?