Big Day Out at Humble by Nature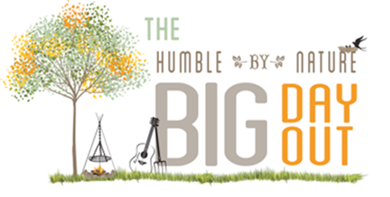 Festival success for Humble by Nature
Saturday 4 July 2015 saw 1500 festival goers take over the Humble by Nature farm as it played host to its first ever outdoor festival, the Big Day Out.
They welcomed award-winning chefs, the finest local producers and musicians from around Wales and the South West to the event. There were activities for all the family, from outdoor cooking demonstrations, foraging walks, bushcraft, campfire singalongs and even a chilli eating competition.
Highlights included a number of outdoor cooking demos taking place throughout the day, with Dallas Campbell and Matt Tebbutt firing up the farm's outdoor pizza oven and Genevieve Taylor, who launched her book 'How to Eat Outside' at the festival, demonstrating how easy it is to take the kitchen outside.
The award-winning Hang Fire Smokehouse showed off their love for all things BBQ with their signature 'slow and low' style of cooking, and one half of Fabulous Baker Brothers, Tom Herbert from Hobbs House Bakery, fired up the oven for soda bread baking and campfire doughnut making.
Gareth Malone OBE expertly led singalongs for the whole family and transformed his audience into the farm's very first choir.
The music continued into the evening with Malone leading a unique singalong around the campfire, complete with a night time flash mob, with a host of talented musicians adding to the festival spirit. Local bands The Noses and The Brwmys played on into the late evening with Back to Basics DJ Simon Mu over in the tepee.
Kate said, "What an incredible day! Today's success is a testament to the amazing support we have both locally and further afield, from local producers to our Big Day Out sponsors, we couldn't have done any of this without them.
"We're delighted the event was a sell-out. How fantastic to see so many people coming to the farm and seeing all we have to offer here."