Between 1907 and 1944, one M.J. Roberts kept a record of local deaths and other items of interest, probably culled from newspapers, from direct experience and from memory (for there are many entries pre-dating 1907). They came into our hands in the form of a heavy, black hard-covered ledger in which he covered about 90 pages with copper-plate handwriting. They show that he thought of Penallt as linked primarily with Redbrook rather than Trellech. Perhaps this is not surprising because Redbrook factories were the nearest industrial employers. Mechanisation had already reduced demand for agricultural labour and villages such as Penallt no longer relied on many trades within their boundaries to meet domestic demand. Men and women from Penallt found employment in "the tin works" at Redbrook within living memory – in spite of resentment on the part of Forest of Dean miners and other tradesmen who looked on Redbrook as rightfully "their's" for alternative employment. In Roberts' case it is probably more significant that he was a tenant farmer at the Duffields, Redbrook for nearly eleven years.
Roberts' book is entitled "Memorandum" on the inside cover which carries his name inexpertly stamped twice by hand. Each page is headed with the year of the entries beginning with 1907. There are entries about Monmouth folk and items of national interest, albeit in the briefest terms. Information about Roberts' family is included as it occurs to him, from which it appears that he was one of the three sons of James Roberts and Elizabeth Nash – Martin, James and Henry. Martin's brother James died in 1931 aged 60 and was buried in Penallt churchyard as was his mother Elizabeth who was born in 1844 in Brook Cottage, Penallt. Of Henry and Martin himself we learn nothing. But he tells us that his father James (1841-91) came from the Maypole, St Maughans, son of John (1800-91), to live in Brook Cottage, presumably when he married Elizabeth. Her father was John Nash (1801-81) who lived in Brook Cottage for more than fifty years with his family of four boys and five girls of whom Martin's mother Elizabeth was the youngest. Roberts is not of course an uncommon name and no doubt careful checking and cross-checking in the public records would be necessary to establish whether or not any of Martin's relations are still living in the district.
Meanwhile, the following entries have been selected from his Memorandum, some because their names still resonate in Penallt and others for their intrinsic interest.
"1893 Nellie Rogers died on December 13th aged 19 and was buried at Penalt Baptist Chapel her parents kept the shop on Pentwyn.
1909 William Hudson and his Son Harold Hudson was drowned in the River Wye at Redbrook on December 14th there was high water at the time they took a boat down from Upper Passage and by some way they ran into the Cylinders of the Railway Bridge and the son was not seen afterwards but the Father swam across to the Redbrook side but failed to reach the shore and was drowned. He was a nice man and liked by all.
1910 Voilet (sic) Pick was strangled on February 3rd she was the daughter of John Pick of the Narth near Whitebrook she was a school teacher in Monmouth and was killed close to Mr. Addis's Monmouth Mills the chap that did the crime was Victor Jones at the time he lived with his Mother at the Grape House on the Dixton Road he was found guilty and condemned to be hanged but got a reprieve.
1913 Honeywell was married to Mamie England on April 17th and on April 19th he died in Monmouth Hospital.
My cousin Mary Herbert was thrown from her trap near Troy Station on May 2nd and died in Hospital on May 9th and was buried at Penalt on May 13th aged 54 years. Mrs John Prosser died very sudden at the Old Church on December 22nd or 23rd aged 57 years.
1915 Mrs. Charlie Leek was drowned at Wyesham water works on February 16th.
1926 Began breaking up the Iron in the Flour Mill at Redbrook January 8th
A man named Ward was drowned at Redbrook aged 22 years on February 21st the same day Mrs. Leek was buried Ward was found at Tintern on April 2nd. Nellie Charles died at the last week in October she lived at the Duffields in the year 1908. She died in Wales and was buried there.
William Adams was killed in the war on August 5th aged 42 years. He won the DCM for bravery.
Ethel Grace Leach was drowned by Dixton Church…….
Manly Holder a little boy was drowned at Wye Bridge…….
1916 William Addis was drowned on March 28th at Penalt on April 1st aged 36 years. He was drowned at the Upper Passage weather (sic) purpose or not seems unknown he was the landlord of Whitehall the people that kept the Passage (Wheatsheaf) at the time was people by the name of Foster.
John Rosser Died May1st aged about 50 years his home was at Wyesham he was a cripple for years and the husband of Bertha Vaughan her home was at the Graig Penalt…
David Davies was killed in battle on July 8th aged 19 years he was born at Duffields Farm Redbrook…..
William Morgan was killed in battle on July 6th or 7th he was the son of William Morgan of the Birches Penalt
Earnest (sic) Selwyn was killed in battle on July 5th aged 44 years
Albert Williams was killed through a motor accident at the top of Monnow Street on August 7th.
W.C.A. Williams Esq. Died on December 19th aged 89 years Buried on 23rd at Llangibby. He had Four sons and six daughters he was landlord of the Duffields and one of the best Gentlemen as could be found I was a tenant at the Duffields under Mr Williams for Ten Years and Ten Months and a better landlord was not to be found.
1918 Ellain Panareine died on March 12th aged about 65 years. She lived at the
Brook Penalt She was known as Madam.
1921 Mr Spencer baby Christened at Penalt Parish Church on May 1st from Llananant, Penalt.
1924 Bernard Beard had his fingers cut off in the Chaff Engine October 21st.
Allen Vaughan died on June 20th aged 29 years. Through a Motor Cycle accident on Penalt.
1927 Stephen Ricketts was drowned at Fernside (Whitebrook) 9 or 10 of May.
1929 Fred Jeffries killed on June 13th aged 34 years. From the Grove Farm Penalt Killed in Cannop Pit.
Rev'd R.P. Goldney died November 13th.
(It is in 1931 that Roberts first writes "Penygarn" – previously it had been "Penny Garden")
1932 Ralph Jones was drowned by the Halfway House on July 10th aged 18 years. Son of Jones of Sunny Bank.
1933 Francis Gleed was drowned July 13th (off Holland).
Man killed at Redbrook on February 6th with Steam lorry.
1936 Frank Herbert died on October 16th or 17th aged 16 years. Gun accident – was killed (at the Graig, Penalt).
1937 William Powell died on September 13th aged 77 years Drowned in the Brook at the New Mills.
1940 Albert Beach died October 18th aged 69 years – shot himself.
1943 Mrs. Du Holme died April 15th
Nelson Gaulder died Oct 6th aged 58 years.
Miss Williams died August 29th aged 87 years (From Lananant)
1944 Mrs Harry Morgan died Feb.8th aged 82 years (From the Brook)"
Altogether, Roberts' Memorandum is a pretty grim list of death notices. But at the back of his book are random entries of marriages and other items of interest to him. Here is a selection of the latter:
"In the year 1535 the first complete English Bible was printed.
Letters in the Bible 3566480.
Robert Pring came to the Bush on January 31st 1933
Brook Cottage sold to A. Burgham 2 acres 26 perches for £40, 190l
Top of Jacob's Ladder to A. Burgham ¾ acres 26 perches £30, 1901
1929 – Highest flood in the River Wye known it was in the Boat Inn Penalt six inches and a half deep in the house.
December 18th 1909 was the highest flood that in the Wye had been known. It was under the Railway Bridge by the Bush at Redbrook.
Joe Richards started sinking well on May 27th in 1935.
Finished digging well on August 7th Depth 30 feet 2 inches.
Finished takeing (sic) up the Coleford Line on Nov 13th 1918.
Jim Perkins' pony buried on July 8th 1920 age about 29 years.
Harry Morgan Brook Farm Penallt Cow with apple in throat but got allright after Vet operation October 12th 1921.
Jim Perkins started from Redbrook for France on March 15th 1917.
Jim Perkins and Earnest Loade came home from France on June 19th (Tuesday) 1917.
William Bamford broke his leg on January 21st 1918 with a horse at Troy Station his birthday being on the same day 30 years.
The Severn Tunnel is Four miles and one quarter and 186 yards. There are 15 million bricks in the tunnel or something like about fifty thousand tons.
Trains stopped running on the Coleford line on December 30th 1916.
Receipt for Toothache Ammonicated (sic) Tincture of Quinine Teaspoonful in a small drop of water"
– an upbeat note with which to conclude the journey through Martin Roberts' Memorandum of melancholia and memorabilia. The date of his last entry was 1944. He died a year later.
We are indebted to the Gwent Wildlife Trust for the following information about the latter years of Martin John Roberts, known to us from his Memorandum as farming in Redbrook. In 1924 however, he bought Pentwyn Farm, Penallt – possibly as an investment for it was occupied by Harry Morgan (presumably he who in 1921 lived at Brook Farm Penallt and whose cow had trouble with an apple). In 1926 he bought more land at Pentwyn from Arthur Burgham, brewer of Redbrook – leaving his whole property there to his son Edward Thomas and his daughter Elizabeth Davison who was still living there in the 1980s.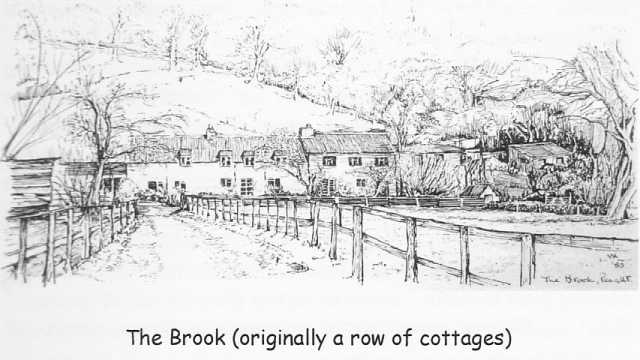 [from: Penallt Revisited]