Extra course – Bookbinding: make a unique book (Friday 30th November)
This unique workshop gives you the opportunity to learn some traditional and more innovative ways of making books – from using one sheet of an ordinance survey map, to sewing pages inside a tea box. You'll also learn about illustrative techniques for designing pages and there will be a treasure trove of collage materials on hand for you to use to create your book.
This technique is the perfect way to showcase a favourite recipe or short poem, or you can leave it blank for the serial note taker. These books are truly unique and make the perfect present – if you can bear to part with them!
All materials are provided, and after a delicious lunch from Kather's Kitchen you'll take home your own personally bound book.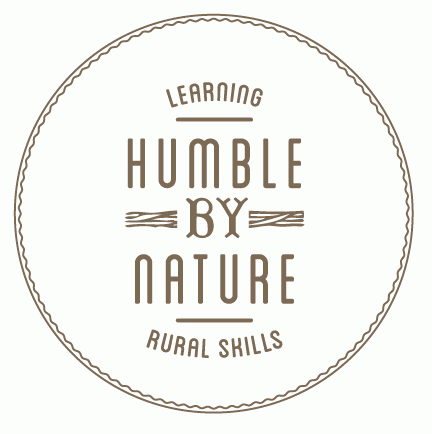 25th September 2012
We're approaching our first birthday at Humble by Nature and we'd like to say thank you to our friends in Penallt for all the support and good wishes we've received over the last year.
We started our courses in the Spring and, over the past six months, have covered a wide range of subjects, including: animal husbandry, bee keeping, foraging and charcuterie. All have been really well received and lots of people have been sent home well-fed with new ideas and inspiration.
The farm has seen lots of changes over the Summer, we've welcomed lots of new animals to the fold, including two cheeky but adorable Boer cross goats and our first September Horned Dorset lambs. We've finished off The Piggery, our self-catering cottage and we've even led a Tutored Tasting at the Abergavenny Food Festival.
As we come in to Autumn our animal courses are starting to wind down and we've stocked the bees up with food to help them get through the Winter. Now we're focussing instead on foraging, charcuterie and hedge laying.
The foraging courses have been inspirational for anyone who wants to explore the world of wild food. Liz Knight our tutor knows so much about the delicacies of the hedgerow, her passion is to keep this heritage knowledge, common to the older generation, alive and strong. Liz works with Kather, our cook, to create wonderful treats to take home and keep for the dark Winter months.
We've also started a Pig Club at the farm: in our second batch we have eight rare breed weaners – four Lops and four Tamworths. The Pig Club is the simple way to own a pig and be sure of the provenance of your meat. We take care of the pigs, provide them board & lodgings and give them lots of tasty food, then, when they're big enough we manage the slaughter process too. There are two options available: straight butchery which will give you sausages, chops and rolled joints or charcuterie for chorizo, pancetta and smoked hams. Our charcuterie expert, Graham Waddington of Native Breeds, is on hand to advise on any individual requirements.
Graham also leads our charcuterie courses at the farm and we're excitedly waiting for our sausage making course this Friday followed by Game Curing in October and a special Curing for Christmas towards the end of November. Graham's knowledge and expertise are vast and anyone who comes on one of his courses takes home some true tricks of the trade as well as delicious morsels to eat.
As a thank you to everyone in Penallt we'd like to offer a discount on our courses at Humble by Nature. Village residents have a special offer for two people to come on any course for the price of one, at £95.
If you would like to come and try a course or find out more about joining the Pig Club simply email: [email protected] with the course you are interested in, your details and address or call Rachael on 07941 309958. More details of the Autumn courses can be found here.
Don't forget if you're searching for a Christmas present for that tricky individual you can buy a Humble by Nature voucher, valid for any course from the website.
We look forward to seeing you soon!