The Local Democracy and Boundary Commission for Wales has completed phase one of their review of the electoral arrangements of the County of Monmouthshire. Their draft proposals report is available here.
It seems that some of the wards which currently constitute the electorate of Monmouthshire need adjusting to make their sizes better balanced. Most electoral wards are unaffected but that of Trellech United is 21% over target size and that of Mitchel Troy is 28% below target.
To try to balance this, the current proposal is that Penallt moves from Trellech United to join Mitchel Troy. Alternatively, the two electoral wards could combine together to form one large ward to be represented by two MCC Councillors.
The map below shows how the existing Mitchel Troy electoral ward would be augmented by the addition of Penallt:-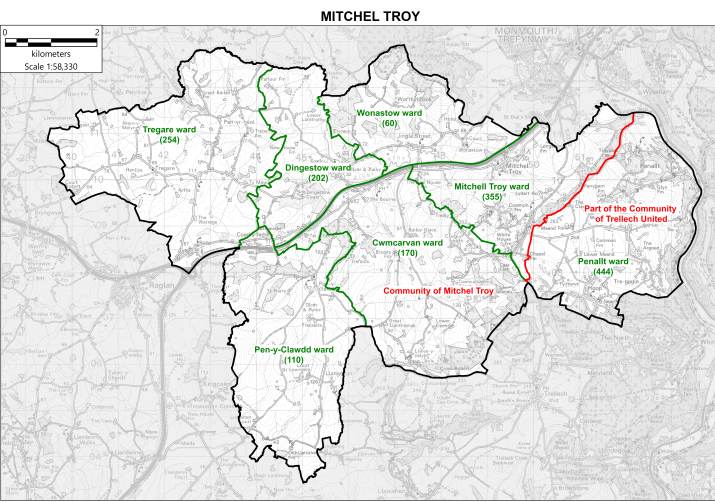 The added complication with this proposal is that Penallt would no longer be part of TUCC so there is a further proposal that the Penallt ward become part of Mitchel Troy for County Council representation, but remain within TUCC as a Community Council.
The full details of relevant proposals are given lower down.
In the meantime, the Local Democracy and Boundary Commission for Wales opened a "period for representation" on December 10th which closes on 10th March 2021, following which the Commission will consider all the evidence and prepare a Final Proposals Report.
Comments should be sent via email to [email protected] or in writing to
The Chief Executive
Local Democracy and Boundary Commission for Wales
Hastings House
Fitzalan Court
CARDIFF CF24 0BL
---
Mitchel Troy and Trellech United – extract from the draft proposals report
The existing Mitchel Troy electoral ward is comprised of the Community of Mitchel Troy. It has 1,151 electors (1,181 projected) represented by one councillor which is 28% below the proposed county average.
The existing Trellech United electoral ward is comprised of the Community of Trellech United. It has 1,940 electors (1,986 projected) represented by one councillor which is 21% above the proposed county average.
The Commission received two representations concerning these wards from Monmouthshire County Council and Raglan Community Council.
Monmouthshire County Council put forward two options for these wards. The first option was to combine both wards to form a multi-member ward. The second option was to transfer the Penallt community ward from the Trellech United electoral ward to the Mitchel Troy electoral ward. The Council stated that if the second option was to be implemented then a consequential change should also be made to transfer the Penallt ward between the two communities so that whole communities are retained within electoral wards ensuring clear boundaries and areas of responsibility.
Raglan Community Council objected to the changes to the community boundaries and consequential changes to the community ward and electoral ward boundaries for the Community of Raglan as a result of the recent community review. They requested that the Commission return the Pen-y-Clawdd ward, and the areas Cuckoo's Row and the Warrage to the Raglan electoral ward and make the consequential changes to the community and community ward boundaries. They stated that the community ties in these areas were stronger with Raglan than with Mitchel Troy.
The Commission proposes that the Penallt community ward of the Community of Trellech United is combined with the Community of Mitchel Troy to form an electoral ward of 1,595 electors (1,645 projected)which, if represented by one councillor would result in a level of representation that is equal to the proposed county average.
The Commission has given the proposed electoral ward the Welsh language name of Llanfihangel Troddi; and the English language name of Mitchel Troy. The Welsh Language Commissioner is in agreement with the proposed name. The Commission would welcome any suggestions for alternative names.
As a consequence, the Commission proposes that the remainder of the Community of Trellech United is used to form an electoral ward of 1,496 electors (1,522 projected) which, if represented by one councillor would result in a level of representation that is 6% below the proposed county average.
The Commission has given the proposed electoral ward the Welsh language name of Tryleg Unedig; and the English language name of Trellech United. The Welsh Language Commissioner is in agreement with the proposed name. The Commission would welcome any suggestions for alternative names.
The Commission agrees with the second option recommended by Monmouthshire County Council and the improvement in electoral parity. It is the view of the Commission that this arrangement best addresses the existing inappropriate levels of electoral variance. This proposal does split the Community of Trellech United, however it is the view of the Commission that the proposed arrangement provides single-member wards in the area with MONMOUTHSHIRE DRAFT PROPOSALS Page 14 both electoral wards having acceptable levels of variance.
Monmouthshire County Council has made suggestions as to the consequential arrangements for the Communities of Mitchel Troy and Trellech United as a result of transferring the community ward of Penallt. The Commission considered this proposal, however due to the community review recently carried out and recommendations agreed by Welsh Government, the Commission wishes to avoid further confusion to the electorate by avoiding a further change to the community arrangements.
The Commission notes that this proposal splits the Community of Trellech United. The Commission would welcome representations on the alternative proposal to combine the Communities of Mitchell Troy and Trellech United to form a multi-member ward.
The Commission did consider the representation from Raglan Community Council. The changes to Raglan community boundaries and consequential changes to the community ward and electoral ward boundaries were part of the community review recently carried out and recommendations have been agreed by Welsh Government