24th August 2013
A competition, open to children under 16, has recently been launched by the Wye Valley AONB Office in order to attract ideas about the future appearance of the Penallt Viaduct (sometimes called the "Redbrook Bridge"). See poster below for details.
The closing date for the competition is 31st August, so little time remains!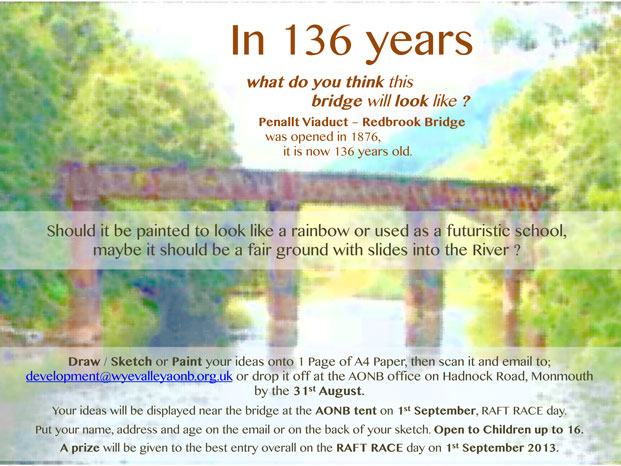 ---
11th September 2012
The Wye Valley AONB Office have recently appointed Opus International Consultants to perform studies and assessments of the three former railway bridges at Tintern, Redbrook and Lydbrook. These assessments will enable us to determine the current condition of each structure and what scope there is to enhance/secure the public access they provide. The information will also be used to inform future funding applications that (if successful) would finance the necessary works.

Consequently, there will be some activity on each of the three bridges over the next two months as this work is undertaken. At Lydbrook and Redbrook, this will not disrupt public access. At Tintern the bridge may need to be closed to vehicles for up to 2 days while boards are lifted and inspections are carried out on the structure underneath (foot access will still be possible during the works).

Andrew Nixon of AONB (Wye Valley) will be pleased to answer questions about this and he may be contacted at 01600 710841, email [email protected].