Adapted from the original article in the October 2012 edition of The Link
MANY students studying at universities around the country have recently received their degrees. But Wendy Boycott from Penallt is not your normal student as she is a 72-year-old who received her BA (Hons) in Religious Studies and Philosophy after six years of part-time study at the Caerleon Campus of the University of Wales, Newport.
Wendy is well known locally as she ran the Bush Inn (now the Inn at Penallt) for 12 years before taking the decision to retire. But she said retirement was boring and added:
"So my daughter Sian persuaded me to take the course on. My daughter did the same course and is now a teacher. I didn't go to university when I was younger and always regretted it.
I'm interested in religion and hadn't studied it previously, but friends and family have given me a lot of encouragement. I'd definitely recommend returning to education to others, it's good to mix with young people."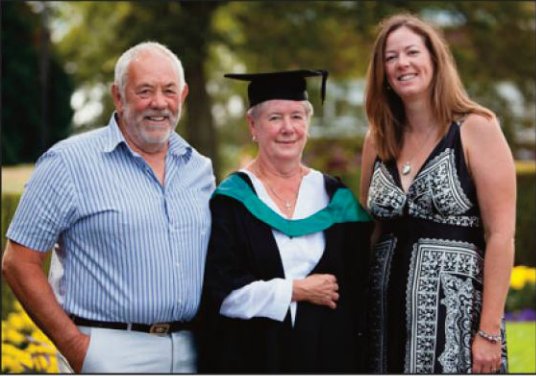 Wendy, with Bryn and daughter Sian