From the Monmouthshire Beacon 10th Nov 2017
A 14-year-old boy has got a taste for adventure after cycling from Monmouth to London in memory of his grandfather. Ben Morgan, who lives in Penallt, has raised more than £1,500 for the British Heart Foundation after completing a marathon 212-mile cycle over three days.
The Monmouth School for Boys pupil spent several months planning every aspect of the challenge to Greenwich.
Ben admits the adventure was 'only the tip of the iceberg' and the keen rower, kayaker and windsurfer is determined to tackle other challenges in the future.
"It was a great experience and we were very lucky because the weather only turned for the last 15 miles," said Ben, who rows four times a week with the school and with Monmouth Rowing Club. It's the first time I have done anything like this but I think it's the tip of the iceberg because I would be very interested in more adventures."
Ben was joined on the challenge by his dad Jon, while his mum Jenni provided back-up with a car in case of emergencies and she also rode parts of the route.
The teenager cycled to Chepstow before picking up National Cycle Route Four, which he followed all the way, stopping at Devizes on the first day, and Twyford on the second. He followed country lanes, disused railway lines and travelled along the Kennet and Avon Canal and River Thames.
Ben cycled from Twyford to Windsor on the final day, gliding through Windsor Great Park, along the River Thames and past Hampton Court Palace. He travelled through Richmond Park and headed into Central London, eventually reaching the finishing line in Greenwich.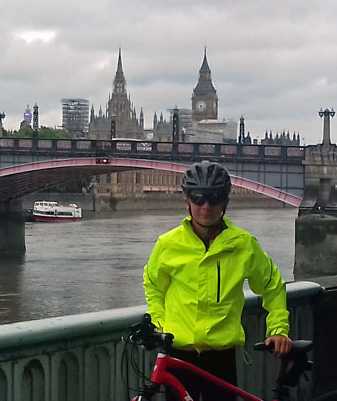 "When we got to the finishing point it was an amazing feeling and I don't think the ride could have gone much smoother or better," said Ben, who is in Year 10 at the school.
"I am thankful and very grateful for the tremendous support I have received from people who have made donations to the British Heart Foundation. The initial fund-raising target was £500 but the figure, with Gift Aid, has gone beyond £1,500 due to the magnificent support I have received."
Second Master at Monmouth School for Boys, Mr Simon Dorman, said: "It was lovely to see Ben come up with an idea like this and then follow it through all the way to its completion – something, I am sure, he will remember all of his life."
Ben's mum, Jenni, said: "Ben first started talking about the challenge and planning it last year. We had a spare weekend and just went for it. The challenge was Ben's idea and we were merely there to support him. It was a great achievement and we are very proud of him."
People can support Ben's cycle challenge in aid of the British Heart Foundation by clicking here.
---
Not just content with one Beacon news item, Ben also appeared as part of his school rowing team's Great Gwent Poppy Run challenge! See below for the Beacon's account:-
Hard-core trenches, obstacles, rivers, electric shocks, smoke bombs you name it, It was all part of the 10k gruelling challenge called the Great Gwent Poppy Run.

Monmouth School rowing crew proved their strength, fitness, determination and team work in respect and memory of the Battle of Passchendaele. The boys worked together, supporting each other physically, mentally and emotionally.
The junior under 15 rowers from Monmouth School for Boys (MSB) took part in the Great Poppy Run – Angus Whitehead, Alex Kulkarni, Matt Webb, Ed Baker, Hamish Lawson, Rui De Sousa Stayton and Ben Morgan were joined by Angus' mum, Angela Whitehead.
They finished the challenge in just over one hour. MSB's Head of Rowing, Mr John Griffiths, said: "The team negotiated the challenging cross country course, through the fields, mud and water and generally had great muddy fun.
"They certainly enjoyed themselves and felt it was a great team-building experience – ideal for the trials and tribulations of the upcoming rowing season. They enjoyed it so much, they now want to get the whole squad together to do another mud run after Christmas."
Mrs Angela Whitehead said: "I took part because the boys couldn't enter without an adult in their team. I was incredibly impressed with their loyalty to each other as well as helping various people from other teams along the way."
"It was an emotional finish for all the parents because the boys ran over the finishing line, arms round each other, covered from head to toe in manure, with the biggest smiles and an even tighter bond."