Landslip blocks old railway line some 600 m south of The Boat Inn.
from John Payne (10th April 2020):
After being cut off from post and deliveries for 6 weeks I have started work on the land slip. It involves winching off trees that are holding back loose soil and are involved in a possible extension of the slip.
Even using a 4 tonne forestry winch it is going to take a lot of digging to safely terrace the hillside. The position of the slip precludes the use of machinery – you can probably see my tractor way below on the track with the cable reaching up to the trees.
It is going to take at least two weeks, please do not remove the safety fences!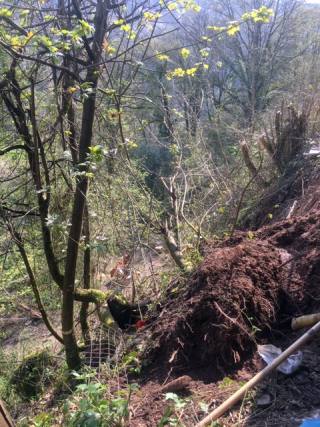 from John and Catherine Payne (12th March 2020):
Our house sits above a disused railway embankment, close to the river Wye. The heavy rain of storm Dennis brought down a section of the railway embankment that had been stable for the previous 150 years. It collapsed 15 metres onto the track below, taking trees and large boulders with it.
The risks to the public were very serious. The track is a national long distance footpath, the Wye Valley Walk, used daily by many people out walking and families with children. And it is our access to and from the village and town. We are very worried that worse is to come because Storm Dennis has left the adjacent bank, which contains several hundred tonnes of trees rocks and soil, peeling away from the shelf of land our out buildings are built on
The path is now legally closed but the general public are still using it unaware that the hillside to the right has separated at the top of the cliff and could collapse at any moment. Because of this it is now blocked off, particularly important after an unaccompanied toddler was seen wandering through!*
The owners of the track have commissioned an engineers report after a local contractor inspected the site last Friday. His initial thoughts were that the area involved in the landslip might need stabilization with gabions to a height of at least 5-10m.
The landslip on the road down to The Boat Inn in 2014 took almost 5 months! Interestingly there is no legal public right of way along the track, it is permissive with the footpath along the riverbank being the public right of way. Because of this situation the Local Authority have little influence over the matter, but can impose an order making it an offence to use the existing track.
* the text above was used as a testimonial for Extinction Rebellion in their action to highlight flooding.