A Comedy of Errors – Shakespeare in Babington Meadow
Monday 26th August 3pm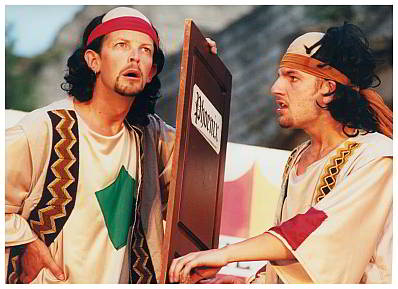 We are getting quite used to seeing the Gloucester based, Rain or Shine Theatre Company put on a stunning outdoor performance in Babington Meadow. Because of the awful weather last year that forced a cancellation, this year we have organised an alternative indoor venue as a standby – just in case!
The Comedy of Errors is thought to be Shakespeare's first play. It is a theatrical feast of wit and humour. The master wordsmith makes the most of an unlikely plot, which includes reunions of lost children with parents, husbands with wives, of adventures and wanderings, and the ever present threat of death. When sets of twins come face to face with their mirror images – not once but twice, the scene is set for total chaos.
Combining adventure, human folly, farce, romance and suspense, the Bard's clever and original plot shows a high degree of genius and creativity – it is an ideal choice for an outdoor theatrical event and really well suited to the Rain or Shine team.
Sitting around the Babington Meadow arena, a lot of playgoers like to arrive early and start the event with a picnic. Most bring their own chairs, though some are always provided. It is also really easy for those less mobile to wheel down to open air stalls as the beautiful site, looking across the Wye Valley to the Forest of Dean was designed with good access in mind. Toilets are also provided.
Tickets are available on-line from www.ticketweb.co.uk/ (booking fee applies) or ring 08444 77 1000 . Alternatively, you can ring our NEW Credit Card Hotline on 0845 644 0931 or email: [email protected] or locally, for tickets and information, phone 01600 715781 or email [email protected].
Click here for more information