Thursday 20th October 2011

The Pelham Hall bar area was full last night when a large crowd of locals (and others) came to hear Ludo Graham and Kate Humble give more detail about their plans for Meend Farm.
Although there had been support for the venture from some quarters of the village beforehand, there were concerns from others about the way in which Monmouthshire County Council (MCC) had handled the sale of Meend Farm, and there were also worries about the potential increase in visitors to the village; one aim of the meeting was to address these concerns.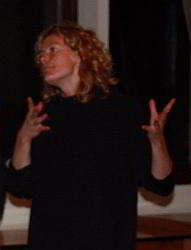 Kate Humble opened with the news that, although both were very hopeful about it, their purchase of Meend Farm had not actually been completed yet. She explained that the farm was owned by MCC who had marked it down for disposal in several lots and that it was destined to be lost as a working farm as a result. Kate and her husband heard about this and decided to try to preserve it as a working farm and approached MCC with a way forward.
The problem was that, at 118 acres, the farm was too small to be financially viable without a subsidised income, so Kate and Ludo proposed that part of the site be devoted to a project area (more on this below) which would generate funds in due course, whilst the remainder would be offered to tenant farmers. After a large number of meetings with MCC, over quite a period of time, a special cabinet meeting unanimously approved the proposal.
Kate and Ludo then gave more details of their plans:
a local couple, Tim and Sarah Stevens, would be the tenant farmers; both were present at the meeting. They would occupy the existing farmhouse and use the modern barns and related existing buildings
the older barns, being less suited to modern farming use, would be adapted to house a farming education centre, where courses aimed at those with smallholdings, e.g. "hobby farmers" would be held.
these courses would be run for some 12 to 15 people and would have a "hands on" philosophy, using the farm facilities widely. Examples might be keeping chickens/pigs/sheep/bees, dry stone walling/hedging/orchards, some being run in conjunction with the Gwent Wildlife Trust. They would typically last between one and three days and would be run by local experts.
course attendees may need accommodation, so local B&Bs, The Inn, etc would benefit from this; they would also need feeding during the day and the necessary catering facilities might then be extended to provide a café for non-attendees as well.
a farm shop could sell local produce
communal facilities such as an apple press and bee keeping equipment might be available
small school groups would be welcomed
both Ludo and Kate wanted to be very much "hands on" in the running of the project, with Ludo being responsible for the day to day admin; Kate's TV commitments would take her away more but her profile would help with the marketing of the project at the same time.
It was stressed that everything was still "work in progress" and that there was much testing of the water to be done which would influence future directions.
Questions from the floor
What about access? How much extra traffic would be generated if the attendance is 30000 per year as at River Cottage?
Extra traffic generated by courses would be small. The attendance figure for River Cottage is divided between a lower figure at the Cottage and a much larger one at the café in Axminster. The situation in Penallt would not resemble this. The Highways Agency are also looking into this and it may be that a separate access is needed and/or passing places built into the lane to The Craig.
Are you competing against farming courses put on by Agricultural Colleges?
No – Colleges cater for large scale farming whilst the courses envisaged are aimed at a very different market.
What if the "cemetery field" is not required as a graveyard?
It would revert to Meend Farm use and would not be sold off.
How is the promised "renewable energy showcase" to be realised?
The land has been assessed as "not windy enough" to erect a wind turbine, but other green initiatives such as grey water collection will be carried out. In addition, one large south facing barn roof is planned to be covered in photovoltaic panels to generate electricity. It was thought that few farms utilised large barn roofs in this way and that "showcasing" this would be beneficial.
The meeting ended with a "toast" from the floor to the success of the project!