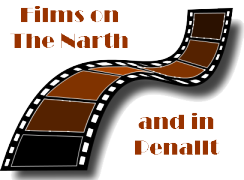 Film Night in Pelham Hall and Films on the Narth start their 2020 season with a programme of eight contemporary films, shown at roughly alternate venues on a two-a-month basis.
Films will be shown on Friday evenings at both venues with doors opening at 19:00 for a 19:30 showing. The entry charge is £5 and refreshments, both alcoholic and non-alcoholic will be available at the bar.
Our Spring 2020 programme follows below
---

10 January, The Narth Village Hall: BLINDED BY THE LIGHT [12A] 117 mins – Comedy/Drama/Music
Coming of age in 1987 Britain, with the help of Bruce Springsteen's music and lyrics. Writer/director Gurinder Chadha (Bend it Like Beckham) delivers an uplifting, funny and poignant film that captures the atmosphere of the time.

24 January, Pelham Hall, Penallt: THE LION KING [PG] 118 mins – Animation/Adventure
The new, 'live-action' version of the Disney classic. Visually stunning using the latest photorealistic techniques to bring the animals to life, and with the voices of Donald Glover and Beyoncé, singing those classic songs, plus some new ones.

7 February, Pelham Hall, Penallt: JUDY [12A] 118 mins – Biography/Drama
Renee Zellweger won the Golden Globes award playing Judy Garland in the last stages of her career, performing in London. With her voice not what it was, she still packs an emotional punch. A sympathetic, fascinating look at a troubled life.

28 February, The Narth Village Hall: SORRY WE MISSED YOU [15] 100 mins – Drama
Ken Loach's follow up to I, Daniel Blake, about working in the gig economy. Since his early work – Cathy Come Home, Kes – Loach has made heart-breaking stories compulsively watchable, with humour and compassion. By all accounts, this is among his best. BAFTA nominated for best British Film.

13 March, Pelham Hall, Penallt: KNIVES OUT[12A] 130 mins – Comedy/Crime/Drama
A good 'old-fashioned' murder whodunnit with an amazing cast including Daniel Craig, Christopher Plummer and many other stars. Funny, thrilling with many twists and turns to keep you guessing, and a sharp, witty script. Great entertainment.

27 March, The Narth Village Hall: OFFICIAL SECRETS [15] 112 mins – Biography/Thriller/Romance
Based on a true story of a British whistle-blower at the time of the Iraq war in 2003, Keira Knightley, Ralph Fiennes and Matthew Goode lead in an exciting, tense story of spies and political intrigue.

3 April, Pelham Hall, Penallt: DOWNTON ABBEY [PG] 122 mins – Costume drama/Romance
The saga continues, in a stand-alone story that doesn't require you to have seen the TV series. It centres around a visit from the King and Queen, with plenty of sub-plots to involve our favourite characters, and some classic bon mots from Maggie Smith.

24 April, The Narth Village Hall: The Good Liar [15] 109 mins – Drama
Unfortunately, 1917 is no longer available from the distributor and we hope to show it during the summer season instead. In its place, we will be showing The Good Liar, starring two of Britain's finest actors, Helen Mirren and Ian McKellen.
It's a mystery thriller which is outrageous and irresistible, an old-fashioned drama with dashes of Patricia Highsmith, Patrick Hamilton, John le Carré and maybe Elizabeth Jane Howard's memoir Slipstream".